Kelly, DiNicola debate at 'Hurst ticketed event Oct. 8
Wednesday, October 03, 2018
Incumbent U.S. Rep. Mike Kelly and Democratic challenger Ron DiNicola will debate at Mercyhurst University on Monday, Oct. 8, at 7 p.m. in the Mary D'Angelo Performing Arts Center (PAC).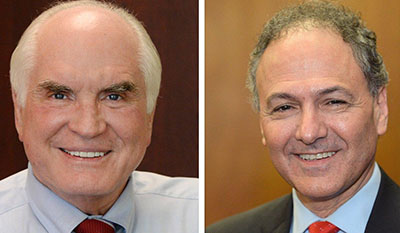 Kelly, 70, of Butler, is seeking a fifth two-year term in the U.S. House of Representatives. DiNicola, 62, an Erie lawyer, is running against him in the newly reconfigured 16th Congressional District.
The hour-long debate will be televised live over WJET, which is sponsoring the event along with the Manufacturer & Business Association (MBA), WQLN and Mercyhurst University. WQLN will record and live caption the program for airing on Nov. 1 at 8 p.m. C-SPAN is also expected to simulcast the debate and air at a later date.
A limited number of tickets have been divided among the various sponsors and the two candidates for distribution.
Mercyhurst employees and students are limited to one ticket each and must personally present their Mercyhurst ID at the PAC box office to claim a ticket; they will also be required to present their Mercyhurst ID with their ticket at the door on the 8th.
"We made the decision to limit the amount of tickets available so we could televise the event live and also enable other media recording and simulcast opportunities, thereby reaching the largest number of potential viewers," said Dr. Joseph Morris, chair of the Mercyhurst University Political Science Department, who is organizing the debate on behalf of the university. "We also created the opportunity for viewers to provide potential questions via WJET's Facebook page."
Morris explained the format for the evening. WJET anchor Sean Lafferty will serve as moderator. A panel of four will ask questions. The panel includes Morris and intelligence studies/political science double major Maggie Hackney, representing Mercyhurst; Jezree Friend of the MBA; and Marcus Atkinson of WQLN.
Each panelist will take turns asking questions of their own, with multiple questions derived from the public to be asked by Lafferty. Analysis will continue in the spin room, which happens immediately following the debate on WJET's Facebook page. 
A limited number of tickets are available to the general public through the candidates' campaign headquarters: Ron DiNicola, 1301 State St., 814-460-4717, or Mike Kelly, 4815 Peach St., 814-651-1038.
Those attending the debate must be in the PAC by 6:45 p.m. when the doors will close.