Intel students launch anti-money laundering club
Thursday, October 25, 2018
As part of their curriculum, Mercyhurst University Intelligence Studies majors learn about terrorism,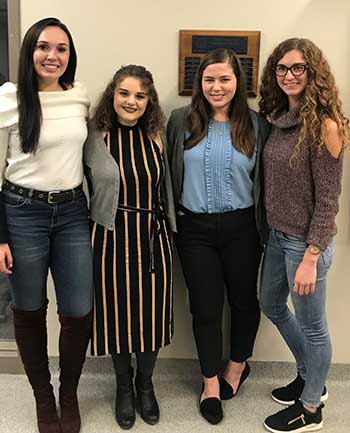 drugs and arms smuggling, and human trafficking, so it stands to reason that they should have a firm grasp on a mechanism that makes much of it possible: money laundering.
"Everything in the world requires money; illicit activities are no different," said sophomore Rebekah Prather, co-founder and vice president of the newly formed Anti-Money Laundering Club at Mercyhurst. "Money laundering" loosely describes the turning of dirty money into clean money. In such cases, the money's owner needs to create financial records ostensibly showing where the money came from; hence, the money must be "cleaned" by running it through a number of legitimate businesses before depositing it. 
Prather said her club's goal is to create a higher profile for the study of money laundering and to network with organizations that are looking for students versed in anti-money laundering skills to foster internships and jobs, but also collaborative projects. Mercyhurst has a long history of contracting with different organizations to produce analytic products, which provides students with real-world experience in supporting the organizations' respective research needs.
Prather said the club already has reached out to the financial watch arm of the United Nations, the Paris-based Financial Action Task Force, and the International Monetary Fund. The latter estimates that between 2 percent and 5 percent of annual global GDP is generated as proceeds of crime (in U.S. funds, that amounts to trillions of dollars). The largest sources are illicit drug manufacturing and trafficking, arms and people smuggling, corruption, fraud, extortion, kidnapping and theft. 
Prather noted the need for individuals trained in anti-money laundering and noted, coincidentally, that a representative of Goldman Sachs will visit Mercyhurst this week to talk to intel students about anti-money laundering and career opportunities in the area of compliance.
Besides Prather, the club's board includes Isabella Fragnoli, president; Emma Rastatter, secretary; and Ella DiPietro, treasurer.
For more information, contact Prather at rprath18@lakers.mercyhurst.edu.
PHOTO: (L-R) Isabella Fragnoli, president; Rebekah Prather, vice president; Ella DiPietro, treasurer; and Emma Rastatter, secretary.