Innovation leader takes helm of new risk mgmt. programs
Thursday, May 17, 2018
Gary Sullivan, an innovation leader in the insurance industry and named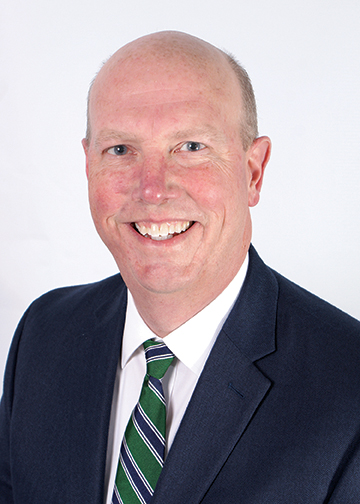 "One of Fifteen People to Watch in Insurance Technology" by Insurance Networking News, took his place center-stage. He was allotted little more than a quick minute to tell prospective students and their parents attending a recent Open House about Mercyhurst University's new risk management programs.
As a pioneer in exploring new technologies to enhance customer experiences, the former 14-year Erie Insurance executive was often called upon to speak at industry events. This, however, was an altogether unfamiliar audience.
Still, he was ready. He took out his phone, pulled up his LinkedIn profile, hit jobs, searched insurance industry, and queried the number of new jobs listed during the past week. "Are you ready," he asked the crowd, "201,074!"
Then, he asked, "How many of you drove here? How many have auto insurance? How many have a house? How many have home-owners insurance?" The arms flew up in rapid succession.
"Well," he told them, "there's your market!"
Sullivan heads the Bachelor of Arts program in Risk Management offered through the Walker College of Business and the online Master of Science program in Cyber Risk Management offered through the Ridge College of Intelligence Studies and Applied Sciences. Both launch this fall, thanks to a $1.25 million investment by Erie Insurance board member and Mercyhurst alumna Betsy Hirt Vorsheck.
Vorscheck, who was honored at a special luncheon at Mercyhurst on Thursday, May 17, made the donation on behalf of the Fortune 500 company for what is named the F.W. Hirt-Erie Insurance Risk Management Program at Mercyhurst University. The program will utilize resources at Mercyhurst's new cyber facilities as well as the Technical Learning Center at Erie Insurance.
Meanwhile, Sullivan wanted this particular crowd to understand how majoring in Risk Management could be a game-changer, especially at Mercyhurst, where the new undergraduate degree blends cyber intelligence skills with risk control, insurance underwriting and insurance claims.
"I have yet to find another program like it in the world," he said.
The rapid growth of online environments and global networks of interconnected devices (Internet of Things) leaves governments, businesses and organizations exposed to new types of cyber security risks. As costs of global cyber crimes continue to skyrocket, demand for professionals skilled at assessing and managing cyber risk is growing rapidly as well.
"The insurance industry is working diligently to identify and insure this kind of risk and the need for talent is huge," Sullivan said.
"Erie Insurance is very enthusiastic about our partnership with Mercyhurst University," said Andrea MacArthur, the company's vice president for learning and development. "Knowledgeable, engaged individuals have always been key to our success. They've formed a strong pipeline of talent here since our beginnings. Our partnership with Mercyhurst is one way we are working to sustain and enhance that talent pipeline into the future."
Referencing A.M. Best, a U.S.-based rating agency that focuses on the insurance industry, Sullivan said the top risk management programs in the country are showing nearly 100 percent job placement rates.
For Mercyhurst, he said, it's just a matter of time. "Our grads will be leaders in an emerging field, well positioned for careers with small and large enterprises as well as in the insurance industry."
And they'll be paid well for it. In 2016, according to the Bureau of Labor Statistics, the median pay for such roles was $92,600 for those with a bachelor's degree and less than five years of experience.
***
For more information on the undergraduate program, visit the Mercyhurst

website

. For details on the online graduate program, view more 

here

.