Hunter Reiff first to represent Mercyhurst Equestrian Team at nationals
Friday April 12, 2019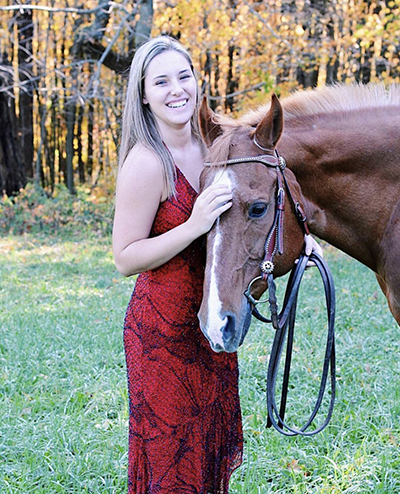 When Hunter Reiff was 3 and riding ponies in her tutu and tiara never did she imagine that one day she'd be heading to nationals as a member of the Mercyhurst University Equestrian Team. 
The Warren native is the first member of the team to qualify for the National Competition of the Intercollegiate Horse Show Association (IHSA) in what has been a memorable year for the entire group. Reiff will compete in the Walk-Trot-Canter Equitation when the championships are held May 2-5 at the New York State Fairgrounds Expo Center in Syracuse.
Reiff's introduction to riding began as a hobby that she and her mom could share. It wasn't long before she got the bug to compete. By the time she was 7, her grandfather had built a barn and the family had bought a horse. Sly was his name.
Sly was a winner from the get-go, and it didn't hurt that Reiff adored him. Today, she still refers to him as her "best friend." 
With Sly as her partner, Reiff went on to compete in all kinds of contests, from the 4-H to the Erie Hunt & Saddle Club. Her most memorable win was that of 4-H State Champion in the Working Hunter division.
When it came time to attend college, Reiff was hoping to continue competing in some manner. She was already enrolled in another college in Ohio when she visited Mercyhurst. One campus tour was all it took to sway her into scuttling her original plan and attending Mercyhurst. But first, the all-important question: did Mercyhurst have an equestrian team?
She learned that the team was small, and that as a club sport, it operated on a shoestring, but that didn't deter her. She would be plenty busy as a dual major in early childhood/special education, so even if she only got to compete occasionally, it would be good enough.
What she later came to realize is that the Mercyhurst team, which started in 2004 with one member and no funding, has come a long way, thanks to the commitment of faculty advisor Dr. Mary Ann Owoc, Coach Halli Bidwell, and a determined group of young equestrians.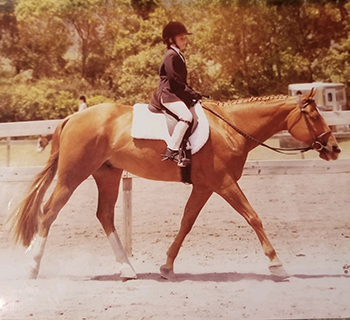 "I am so excited for Hunter, the team and the school," said Bidwell. "They are a talented group of girls who have worked hard to get to this point and now they are starting to see their determination pay off."  
In fact, this year the team placed third in the region and both Reiff and Alyssa Reedy qualified for Zones, with Reiff making the Nationals cut. Besides Reiff and Reedy, the team is comprised of Emily Thayer (captain), Taylor Baker, Katie Snable, Kelsey Collins, Grace Hoey, Marissa Drozdiel, and Jessie Brandon. They train at Brenric Stables in Edinboro.
"We compete with some pretty big programs and are usually considered the underdog, which is why I'm excited that we did so well this year," Reiff said. "I was really more nervous competing at Zones than I am for Nationals. I just want to enjoy it all now."
"It has been a long road," Owoc added. "Everyone chipped in and made many sacrifices over the years in order for us to compete and represent Mercyhurst.  Since 2010, institutional funding, private donations, a business co-branding partnership, and interest and support from Laura Zirkle (vice president for student life and athletics), among others, allowed us to grow large enough to become competitive in our region." 
PHOTOS:
Top right: Hunter Reiff and her horse, Sly.
Lower left: Hunter and Sly in their early days of competition.