Hunter to be honored with Lifetime Achievement Award
Friday, October 26, 2018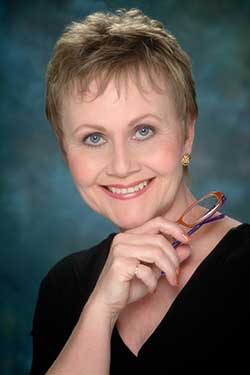 On Nov. 7, dance professor Tauna Hunter will accept a Lifetime Achievement Award from Erie Arts & Culture, capping a 25-year career leading Mercyhurst University's acclaimed dance program.
Hunter, who chaired the department for 24 years, stepped aside as chair this year in anticipation of her retirement next spring. In what she calls her "last hurrah" as a full-time employee, she and husband Michael Gleason will accompany 14 dance majors to Mercyhurst's campus in Dungarvan, Ireland, for the final eight weeks of her tenure.
While she's grateful for the honor accorded her by Erie Arts & Culture, she insisted that the award should also be Gleason's. She described him as her "rock and foundation" throughout her career. Also an accomplished dancer and choreographer, he retired from Mercyhurst two years ago but has continued to teach as an adjunct instructor and is staging his choreography "Symphonie Italienne" for the dance department's Nov. 9-11 concert Symphony in Motion.
Hunter earned both a B.F.A. and an M.F.A. in ballet performance and choreography from the University of Utah. She received critical acclaim as a leading ballerina with Ballet West, and toured with a variety of other regional companies. In addition, she and Gleason founded DANSOURCE, a national networking service that connected dancers with companies for more than 10 years.
A DANSOURCE connection led her to the position at Mercyhurst, where in 1994 she accepted the charge to develop a nationally recognized ballet-based program. In the years since, the program has grown from 30 majors to more than 75. At the start, dancers rehearsed in Mercyhurst's former library and performed in a small recital hall, where students executing jumps sometimes landed on a grand piano offstage. Today they perform in the state-of-the-art Mary D'Angelo Performing Arts Center and rehearse in a pair of dedicated studios that Hunter and Gleason created by reclaiming a formerly open courtyard. Throughout the years, the reputation of The Mercyhurst Dancers has continued to grow.
"One of the biggest challenges I've faced in Erie is that the community thinks of us as just a student group," Hunter said. "They don't really know what a hidden treasure they have here. We offer a pre-professional program and our graduates move right into professional dance companies."
"I've tried to take the best of my previous experiences and pass them on to my students, exposing them to nationally and internationally acclaimed artists and preparing them to become leaders in the dance world," she said.
She hasn't calculated the exact number of students she's taught here, but said she feels like she has 300 children. "The alums have gone so far beyond my expectations," she said, noting that they include not only many successful dancers, teachers, choreographers, administrators and scholars, but also doctors, attorneys and even five Ph.D.'s.
Beyond the Mercyhurst campus, Hunter has been deeply involved in the region's dance community, most notably with the Erie Dance Consortium, sharing the university's artists and guests with the greater Erie community and hosting the Erie Area Festival of Dance. "I feel very strongly about this," she said. "We need to celebrate dance as a dance community. Dance is hard and we shouldn't make it harder for each other."
Born and raised in Utah, she no longer practices the Mormon faith, but still lives by its foundational teaching about the importance of family and community. "And in a Catholic institution that celebrates service, how do you teach that to students?" she asked. "You take them out into the community and have them do service."
Hunter partners with community agencies for each of her concerts. Every year, a gala reception prior to one student performance benefits the Jenni-Lyn Watson Scholarship Fund and local domestic violence agency SafeNet. The close ties between the groups grew out of what Hunter described as the most devastating thing she faced at Mercyhurst – the death of dance major Jenni-Lyn Watson at the hands of her boyfriend.
"She's still ever present here," Hunter said. "We still use her story to teach our students about making safe choices and to generate awareness of the problem of domestic violence."
A breast cancer survivor herself, Hunter has also actively supported cancer research.
Reflecting on her career, Hunter uses terms that have also been used to describe Mercyhurst's history. Hunter said her performing career was her first spring, and her Mercyhurst career has been her second spring. And though she'll officially retire next year, Hunter is looking ahead to a third spring.
She hopes to remain involved at Mercyhurst as an adjunct, staging works and choreographing. She's also reaching out to her 300 children around the country to let them know she's available to guest teach and choreograph. This fall she's staging La Fille mal Gardee for one of her mentors, Bruce Marks, and hopes to produce the work elsewhere as well.
She rebooted Mercyhurst's Summer Dance Experience in 2018 and hopes to continue growing the intensive program for talented dancers ages 12-23. And she'll continue to serve on the boards of the National Association of Schools of Dance and of Erie Arts & Culture.
Hunter and Gleason have purchased a property in Florida and expect to become snowbirds at some point, but have also discussed the possibility of living in Europe for a time. Their daughter, Caitlin, grew up in the dance department. Now she's a visual artist and web developer living in Connecticut.
Colleague Solveig Santillano, an associate professor of dance at Mercyhurst, nominated Hunter for the award. She noted, "Since moving to Erie I have seen Tauna cultivate the arts within in our community, provide outstanding education through innovative curriculum, aid in our program's accreditation, create new hire opportunities, provide alumni support, mentor students, colleagues, fellow artists, numerous companies  and the Erie Dance Consortium, positively affecting the Erie community in complex, continuous and innovative ways."
Hunter's award will be presented during the 2018 Fall for Arts & Culture event on Wednesday, Nov. 7, at 6:30 p.m. at the Erie Playhouse, 13 West 10th Street, Erie, with a pre-event cocktail hour at Room 33 beginning at 5:30 pm. During the ceremony, Mercyhurst dance alumnae Janet Strukely-Dziak and Lauren Stenroos will perform in Hunter's For Loss of Renee. 
Tickets for the event are available online at erieartsandculture.org.