Hospitality students engage virtually with Disney Resort guru
Thursday, April 18, 2019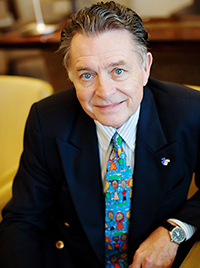 Lee Cockerell, the former executive vice president of operations for Walt Disney World® Resort, will engage hospitality management students at Mercyhurst University during a virtual presentation on Wednesday, April 24.
Cockerell will discuss leadership, management and serving excellence in Allyson Schrimper-Minor's Advanced Food Service Management class.
"This is truly a once-in-a-lifetime experience for our students, even to be virtually in a room with someone so highly decorated in our industry," Schimper-Minor said.
In his position at Disney, Cockerell led a team of 40,000 cast members and was responsible for the operations of 20 resort hotels, four theme parks, two water parks, a shopping & entertainment village and the ESPN sports and recreation complex.
His book, Creating Magic …10 Common Sense Leadership Strategies from a Life at Disney, is used in the students' class.
"I'm excited for this opportunity Mr. Cockerell is giving our students," said Schrimper-Minor. "I hope this branches out our industry ties so that we can have more professionals reach our students in this way."