Hospitality dedicates wine room, introduces collection
Thursday, November 16, 2017
Mercyhurst University hospitality and culinary students now have the opportunity to learn more precisely about fine wines,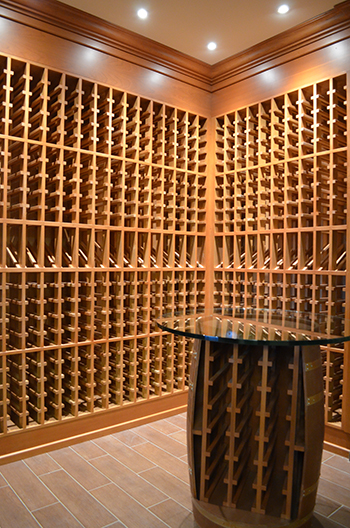 thanks to a gift from alumnus Chris Johnson that led to construction of a wine room and plans to build a prestigious collection.
Johnson, an Erie native and 1989 hospitality graduate who now works as a financial advisor in Cary, North Carolina,  returns to his hometown on Tuesday, Nov. 21, for a 5 p.m. dedication of the new Christopher S. Johnson Wine Room. It is situated next to the university's Marriott Café in the Center for Academic Engagement.
"This represents a remarkable teaching tool for our hospitality and culinary programs," noted Cal Pifer, vice president for external relations and advancement. "We are very grateful to Chris for his generosity."
Speaking from his home in North Carolina, Johnson said, "I give to support causes, but I also give to support people, and this is my way of showing that I believe in President Victor and what he is doing for Mercyhurst."
As a student, Johnson said he worked in restaurants and hotels and became acutely aware of the need for wine education, so when one of his professors, Daryl Georger, now chair of the Statler Department of Hospitality at Mercyhurst, mentioned the idea of a Mercyhurst wine room, he was all in. Johnson is also involved in a number of charitable events involving wine, one of which is the Triangle Wine Experience that last year raised $1.8 million for a school and developmental center for special needs children in Raleigh.
Meanwhile, the Johnson Wine Room is outfitted with beautiful cherry wine racks, the latest humidity-control system, and as the pièce de résistance: a custom wine barrel that has been transformed into a tasting table. Pifer said the collection will comprise "investment-grade wines." Donors, he said, will be able to contribute bottles to help build the collection.
Situated in one of the most prolific grape growing regions of world, the hospitality program on the Erie campus and the Wine and Culinary Institute on the North East campus, represent ideal candidates for wine studies.
"Great hospitality schools have wine collections; we felt having our own would continue to keep us in the forefront of the nation's hospitality programs," said Georger, who was instrumental in working with Johnson on the project. 
"Not only is it prestigious to have a wine collection, but it is valuable in teaching students," he said. "They will learn how to buy, sell and trade valuable wines as well as how to pair those wines, and much more."