Historic Jackson homestead at center of Mercyhurst study
Wednesday, August 08, 2018
Robert H. Jackson served as U.S. Solicitor General and U.S. Attorney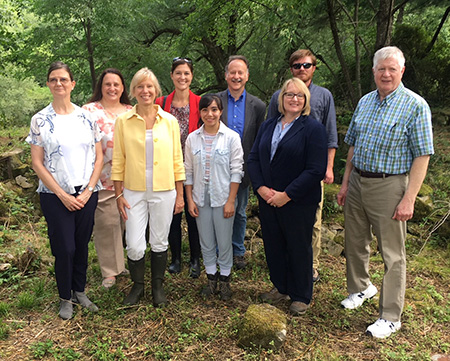 General before being appointed to the U.S. Supreme Court in 1941 by President Franklin D. Roosevelt. Jackson took a leave from his post on the court to act as Chief U.S. Prosecutor during the Nuremberg Trials of Nazi war criminals following World War II.
***
During a ceremony July 24, representatives of the Robert H. Jackson Center and Mercyhurst University's Anthropology/Archaeology Department signed a Memorandum of Agreement to launch an archaeological study of the Warren County homestead where Robert H. Jackson was born.
Also taking part were representatives of Glendorn Land, the current owners of the property overlooking Spring Creek where Jackson's great-grandfather settled shortly after the American Revolution. Volunteers have already removed brush from the site, revealing the foundations of both the Jackson farmhouse and a nearby barn.
Anthropology/Archaeology Chair Dr. Mary Ann Owoc said work will begin this fall to map and document the site and to evaluate artifacts from the property for potential further study.
The Robert H. Jackson Center, established in 2001 in Jamestown, New York, is a history center dedicated to the life and legacy of its namesake.Though the Jackson family moved to the Jamestown, N.Y. area when Robert was just 5, he made summer visits to the homestead through much of his life.
"We're excited about how this partnership will enhance our educational mission as a department committed to faculty-mentored student research, hands-on student training, and public archaeology," Owoc said. "We're also very glad to enhance our already strong relationship with Mercyhurst's History Department by coordinating on the archival portions of this project."
Much of the work at the Jackson Homestead will be done by Rose Pregler, a rising senior at Mercyhurst who is double majoring in Anthropology/Archaeology and History. She will complete capstone senior projects in both fields with her work on this project, under the supervision of historical archaeologist Dr. LisaMarie Malischke and history professor Dr. Ben Scharff.
According to Pregler's research proposal, "The goal of this research is to conduct a preliminary archaeological investigation of the Robert H. Jackson Farmstead (Spring Creek, Pennsylvania) in order to produce new information on historical Pennsylvania farmsteads and gain a fuller understanding of the site's history and the lives of its past occupants."
Attorney Greg Peterson, a co-founder and board member of the Jackson Center, explained, "We're hoping to understand the life and times of the Jackson family, why they may have chosen that area to live, why they came back to the area, and to understand the environment in which Justice Jackson and his family lived."
Jackson Center Board Chair Stanley Lundine signed the agreement, along with Owoc and Dr. Christina Riley-Brown, dean of the Hafenmaier College of Humanities, Arts and Social Sciences. Also on hand to witness the signing were Julia Craighill and Thomas Loftus, two of Robert H. Jackson's grandchildren; Jackson biographer Professor John Q. Barrett; and David Crane, Founding Chief Prosecutor of the Sierra Leone Tribunal.
PHOTO: Two of Robert H. Jackson's grandchildren (Julia Craighill at left and Thomas Loftus at right) join representatives of Mercyhurst University at the Warren County site where Mercyhurst will launch an archaeological study of the Jackson family homestead. Mercyhurst representatives include, from left,  Dr. LisaMarie Malischke, Dr. Mary Ann Owoc and Anne Marjenin of the Department of Anthropology/Archaeology; student Rosie Pregler; history professor Dr. Chris Magoc; Hafenmaier College Dean Dr. Christina Riley Brown; and history professor Dr. Ben Scharff.