Grant enhances neuroscience research locally
Monday, August 13, 2018
Mercyhurst University will house sophisticated new equipment to expand neuroscience research locally, particularly in the areas of schizophrenia, autism and epilepsy, thanks to a $411,432 grant from the Hirtzel Foundation.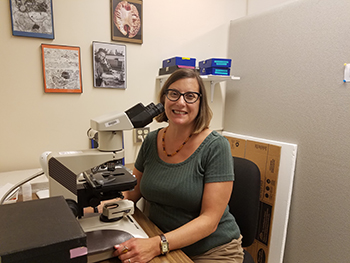 Phyllis J. Kuhn, Ph.D., president of The Lake Erie Research Institute (LERI), made the application for the Microbrightfield Bioscience Neurolucida and Stereo Investigator Systems on behalf of Mercyhurst, the host institution. As such, Mercyhurst guarantees that the equipment is available for use by other institutions and agrees to provide the renovations, space, technical support, supplies and insurance for the equipment. That represents an in-kind match of approximately $278,685, bringing the total value of the project to $690,117.
Darlene Melchitzky, biology lab director at Mercyhurst, will oversee its operation.
Neurolucida and Stereo Investigator Systems are image analysis techniques capable of making neuronal measurements of nerve pathways, which is critical for a better understanding of abnormal circuitry in human disease states. 
According to the grant application, changes in nerve cells have been demonstrated in several conditions including:
aging and development,
neurodegenerative disorders-Alzheimer's disease and Huntington's disease,
neuropsychiatric disorders-schizophrenia, depression, and
neurodevelopmental disorders-autism, autism spectrum disorder and epilepsy.
Besides Mercyhurst, representatives of Lake Erie College of Osteopathic Medicine, Penn State Behrend, and Allegheny College all expressed interest and a need for the equipment, which is not available in the region. Acquisition would allow expansion of current research being conducted, providing more opportunities for advanced, as well as undergraduate research projects.
Melchitzky and her students, for instance, will use this technology to investigate developmental changes during adolescence that are thought to play a key role in the progression of cognitive dysfunction and the onset of psychosis in schizophrenia.
"The acquisition of the Neurolucida and Stereo Investigator Systems will greatly advance neuroscience research in northwestern Pennsylvania," Melchizky said. "This acquisition is a tremendous achievement for LERI and Mercyhurst University and I am excited to get started collecting data with students on projects that probe the mysteries of the brain."
To learn more about biology and the neuroscience concentration at Mercyhurst, click here.