Gift creates President's Residence for Mercyhurst
Monday, November 19, 2018
For years, the stately brick Tudor at 3906 State Street with its elegant leaded glass windows and steeply pitched slate roof served as the family home of Bruce and Nancy Kern.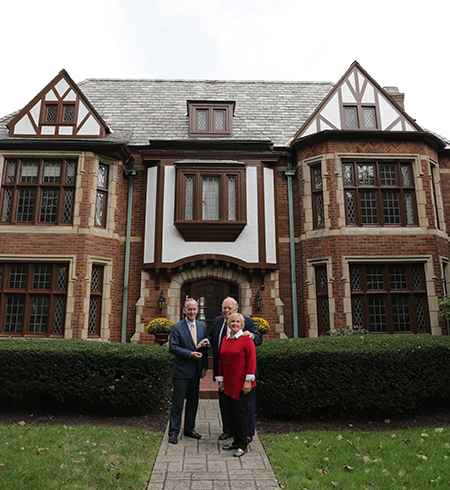 Thanks to the Kern family's generous gift, the 4,295 square feet of spacious rooms, gleaming hardwood floors and ornate black walnut woodwork is now the official Presidential Residence of Mercyhurst University.
Although Mercyhurst President Michael Victor will not be moving from his own family home in Millcreek to take up residence there, he says having such prime real estate neighboring campus holds promise as a social and cultural center. It will be a beautiful setting for hosting alumni gatherings, welcoming new students, entertaining special guests and holding faculty gatherings. And, of course, it will be the home of future Mercyhurst presidents.
Bruce and Nancy Kern are longtime supporters of Mercyhurst; their son, Scott, is on the board of trustees. They have two other children, Bruce and Marlissa. When they decided to part with the home they had lived in for nearly 30 years, they wanted it in the hands of someone who could appreciate its architectural integrity and take responsibility as good stewards.
"Architecturally, the house is a natural fit for Mercyhurst," Nancy said. "It looks like it could be sitting right on campus and not be out of place. We knew we'd be putting it in good hands."
Nancy also wished that the spirit the Kerns engendered in that house for three decades would continue. "We raised our three children in Fairview, and when they grew up, Bruce and I bought this home for ourselves," she said. Still, the Kerns weren't often alone. Ideally designed for entertaining, their house became the go-to for holiday gatherings with family, and all-occasion parties with friends.
"We are indeed grateful to the Kerns for their generosity," Victor said. "A presidential home is so much more than bricks and mortar. It is as much a welcoming retreat for a fireside chat with students as it is a warm and inviting place to entertain many guests at a holiday party. We are eager to explore the possibilities."
Already, the university has painted the outside trim in a rich brown-and-cream combination to reflect the classic Tudor style. Other improvements on the horizon include freshly painted interior walls and installation of a stunning mural-scene wallpaper for the dining room. It is hoped that work on the first floor will be completed in time for an opening event with the university's board of trustees in February.