Gibbs reflects on Love Canal – 40 Years Later
Wednesday, April 11, 2018
Housewife-turned-environmental-activist Lois Gibbs will deliver the 17th Annual Sister Maura Smith Earth Day Lecture at Mercyhurst University on Monday, April 23, at 7 p.m.in Taylor Little Theatre.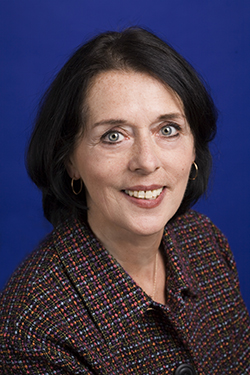 Gibbs led the struggle to have 800 families in her Niagara Falls community evacuated and relocated after discovering that tons of chemical waste material was buried in nearby Love Canal. She'll discuss "Love Canal 40 Years Later: What Have We Learned and Where Do We Go from Here?"
Gibbs, concerned that health problems affecting her children and her neighbors could be tied to exposure to chemical waste, organized the Love Canal Homeowners Association in 1978 and led the battle against local, state and federal governments. After years of struggle, more than 800 families were eventually evacuated, and cleanup of Love Canal began. Her efforts also led to creation of the U.S. Environmental Protection Agency's "Superfund," used to locate and clean up toxic sites throughout the United States.
In 1980, Gibbs founded the Citizens Clearinghouse for Hazardous Waste (later renamed Center for Health, Environment and Justice), a grassroots environmental crisis center that has provided information, resources, technical assistance and training to thousands of community groups around the nation.
This lecture is presented by the Charlene M. Tanner Speaker Series and co-sponsored by the Mercyhurst University Sustainability Office and the Evelyn Lincoln Institute for Ethics and Society. It is free and open to the public. For more information, contact Sarah Bennett, sustainability officer, at sbennett@mercyhurst.edu.
A variety of other events are scheduled to mark Earth Week at Mercyhurst.
Monday, April 23: The Sustainability and Plant-Based Living Clubs will make sustainable snacks available from 10 a.m. to noon in the lobbies of Zurn Hall and the Hirt Academic Center. A sustainable selection will also be available in the Grotto Commons.
Tuesday, April 24: The Sustainability Club will host a workshop at the Student Union from noon to 2 p.m. to teach people how to recycle and compost.
The film Before the Flood will be shown Tuesday at 7 p.m. in Zurn 114. Before the Flood, presented by National Geographic, features Leonardo DiCaprio traveling to five continents and the Arctic to witness climate change firsthand. Watch the trailer.
Wednesday, April 25: Mercyhurst Student Government will hand out reusable water bottles at bottle filling stations around campus.
The Art Education Club, Fashion Council and Sustainability Club will co-sponsor a "Trashion Show" Wednesday from 7 to 8:30 p.m. in the Student Union. Students will model outfits they designed and created from reused materials in a juried show to raise awareness for reducing and reusing.
Thursday, April 26: The Sustainability Club will hold an event planting herbs in repurposed plastic bottles from 6 to 8 p.m. in the Student Union.
Saturday, April 28: The Great Campus Cleanup will be held from 10 a.m. to noon. Volunteers will meet in the lobby of Zurn Hall.
At Mercyhurst North East
Students in the Criminology and Criminal Justice Club are organizing a campus and community clean up on Friday, April 20, in honor of Earth Day. This is an annual tradition for nearly two decades, involving students, faculty, staff and volunteers, and is a tangible way to live the university's mission. The volunteer group will again include some special guests from the Barber National Institute. Sign in will be held at 10 a.m. in the lobby of the Ridge Library. The cleanup will include various spots throughout campus and along Route 89 and runs from 10:30 a.m. to 1 p.m. Pizza and refreshments will be provided for participants at 12:30 p.m. This effort, like the April 28 cleanup on the Erie campus, is a part of the Great American Cleanup of Pennsylvania.