Four Mercyhurst PA students earn major VA scholarships
Monday, June 11, 2018
The U.S. Department of Veterans Affairs received more than 700 applications for the 19 Health Professional Scholarships that it awarded this year.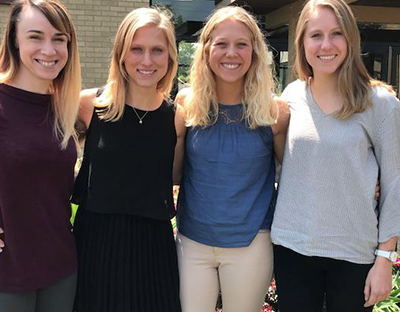 Four of those sought-after awards went to Mercyhurst University students in the Physician Assistant Studies graduate program.
The scholarship totals approximately $40,000 and covers full tuition, fees and stipends for academic year 2018-2019, the year of the students' clinical rotations. In accepting the award, each student agrees to complete at least one of their clinical rotations at a VA hospital and then to become employed by a VA hospital for a minimum of two years after graduation.
The students, pictured above right, are Bethany Kelley of Harborcreek; Sarah Schroeder of Hudson, Ohio; Amanda Wolterink of Jenison, Michigan; and Kristen Hamilton of Clarence, New York.
"I'm looking forward to graduating from Mercyhurst's Physician Assistant Studies program in 2019 and working for the VA afterwards," said Kelley, a 2005 graduate of Harborcreek High School. "My husband is currently serving in the Pennsylvania Army National Guard, and seeing the sacrifices he's made, I'm honored to be given this opportunity through the VA to give back to veterans."
"What I love most about this kind of work is interacting with many different patients and working as a healthcare team to provide the best care for them," she added. "Knowing I've played a part in helping with a patient's recovery means a lot to me."
In addition, the PA program also boasts three students who earned 2018 PA Foundation scholarships from the Veterans Caucus. Each received $2,000. The students include Sarah Colgan, who received the Donna Jones Moritsugu Memorial/Veterans Caucus Scholarship; Sarah Schroeder, recipient of the Vikki Lianne Moritsugu Memorial/Veterans Caucus Scholarship; and Bethany Kelley, honored with the Grogan Memorial/Veterans Caucus Scholarship.
"Faculty members in the Department of Physician Assistant Studies are very proud our students have earned these prestigious awards and honored that they will be able to provide medical care to the veterans who have served our country," said department chair Holly Jodon.