Former hockey All-American Kristen Cameron graduates from Mercyhurst
Wednesday, April 24, 2019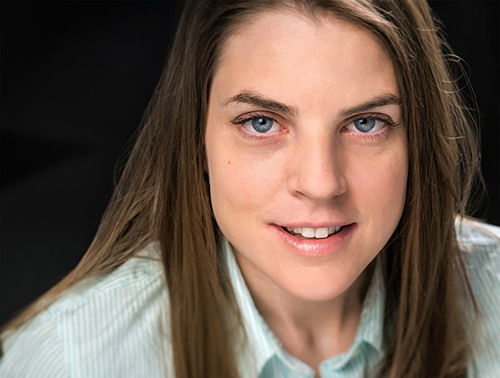 It's been nearly a decade since former Mercyhurst University women's assistant ice hockey coach Kristen Cameron was struck by a hit-and-run drunk driver while bicycling on Route 19 in Summit Township.
She suffered catastrophic injuries that left her paralyzed from the chest down and limited use of her arms. It took a while, but the love and support of her family and friends and the many health care practitioners who worked with her, helped to reawaken her competitive spirit. 
After years of physical rehabilitation, including a long stint at the Toronto Rehabilitation Institute's Lyndhurst Centre, Kristen is playing sports, including as a member of the Canadian National Wheelchair Rugby team member since 2016; she's learned to drive a car; she's a sought-after motivational speaker; a peer support mentor with Spinal Cord Injury Ontario. And in 2014, she received the Ralph W. Braun Spirit of Ability Award in Ontario. 
And, finally, after a nine-year hiatus, she will realize her dream and graduate from Mercyhurst University with a master's degree in Organizational Leadership.
Originally from Charlottetown, Prince Edward Island, Cameron will attend her graduation in person on Sunday, May 12, at 2 p.m. at the Erie Insurance Arena. As the Sister Eustace Taylor Award recipient for excellence in Organizational Leadership, Cameron will also attend the Friday, May 10, Convocation Ceremony at 3 p.m. in the Mary D'Angelo Performing Arts Center.
Organizational Leadership program director Dr. Anne Zaphiris said Cameron earned her degree through online and correspondence classes, achieving a 3.9 GPA. 
In nominating Cameron for the Sister Eustace Taylor Award, Zaphiris said, "Extraordinary leaders have resilience; finding meaning in adversity, persevering without losing hope, and emerging stronger and transformed with newfound commitment and abilities. Kristen Cameron exemplifies these characteristics."
"It's hard to put into words how much it means to finally finish this degree," said Cameron. "The entire Mercyhurst community, in particular Professor Zaphiris, has been incredibly supportive. I'm proud to finally close the door on this chapter of my life so I can seize the opportunities this degree will help bring in the future."