Fear gives way to exciting new career, lifestyle for Mercyhurst PA Studies graduate Jessica Koval
Thursday, July 12, 2018
Fear is a powerful force that often gets in the way of people's happiness.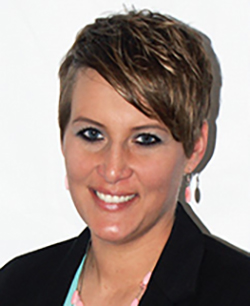 For Jessica Koval (at right), a 2018 graduate of Mercyhurst's Physician Assistant Studies program, it almost sideswiped her dreams entirely.
In 2015, Koval, 34, was a busy mother of four young children, married to Tom, an Erie School District teacher, and working full time as an athletic trainer at then-Central Tech High School through UPMC Hamot Sports Medicine.
Sounds like a solid enough life, right? But, to Koval, it was drastically out of balance. She said her work wasn't conducive to family life; she often labored nights and weekends, missing out on all kinds of activities, from kids' games to holiday outings. Something had to change.
Koval and her husband spent nearly three years exploring options until, finally, she let that little voice in the back of her head emerge. She had long visualized being a physician assistant, but convinced herself that she didn't have what it takes to handle the rigors of such a demanding field of study, especially with the other influences in her life.
"I was terrified," she said. The fear of not being able to balance school, work and family was nearly paralyzing, as was the thought of outright failure. But Tom nudged her along, and eventually she took a leap of faith by making an appointment to talk with the PA program director at Mercyhurst.
Although she was encouraged by that conversation, she learned that she would need 48 credits before she could qualify for the program. She isn't quite sure how she did it – "a lot of support from Tom and the rest of my family" – but she earned those credits in a year through online classes while still working and raising children. In May 2016, she relinquished her job and enrolled full time in the university's PA program.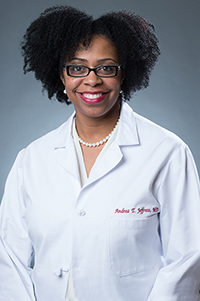 As part of her studies, she did a rotation at Ob/Gyn Associates of Erie, where she had the opportunity to work alongside Mercyhurst Trustee Dr. Andrea Jeffress (at left). "She was wonderful," Koval said. "Everyone in that practice was. I just loved the positive vibe."
As fate would have it, Jeffress had a similar opinion of Koval and offered her a job upon graduation.
"From the moment Jessica did her student rotation with us, it was clear she was a cut above," said Jeffress. "To me, she had a clear advantage that was, no doubt, in part due to the strength and depth of Mercyhurst's Physician Assistant Studies curriculum. Combine that with her work ethic, compassion and enthusiasm, and it was a no-brainer to recruit and hire her before the secret was out of the bag."
Koval is reveling in her newfound career and the balance it has brought to her life. "Finally," she said, "I have a set schedule. I can enjoy evenings and weekends with my family. Life is much more relaxing."
Any advice for others seeking a major life change? "I'd say go talk to someone before convincing yourself you can't do it," she said. "You'd be surprised at what you can do when you don't let fear hold you back."