Fashion merchandising students rise to occasion in national competition
Tuesday, September 03, 2019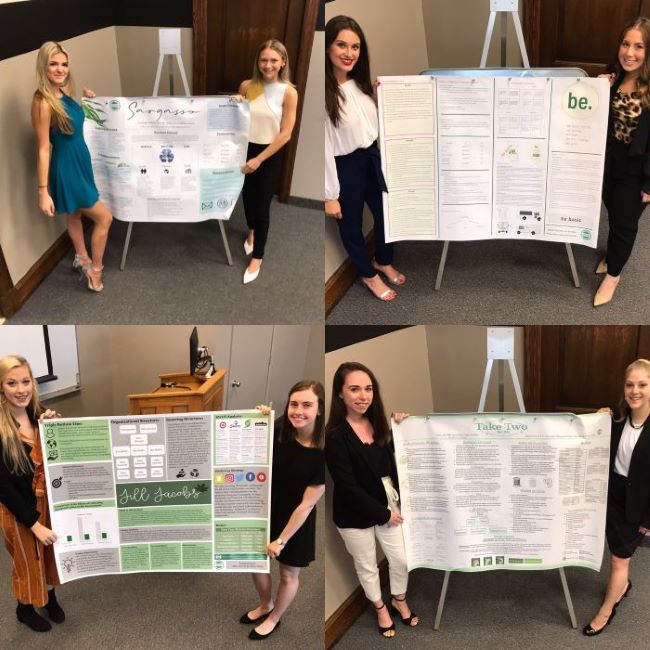 Four student teams from Mercyhurst University are among the 10 finalists in the 2019 Student Merchandising Competition sponsored by the Educators for Socially Responsible Apparel Practices (ESRAP).
This annual juried poster competition challenges undergraduate and graduate students to incorporate Triple Bottom Line (TBL) practices in the development of a business plan for a socially responsible fashion retailer. The TBL posits that instead of one bottom line, there should be three: profit, people, and the planet.
Mercyhurst's winning teams include Chloe Speranza and Mia Vassallo, Mary Jacobs and Jillian Setek, Olive Zucchi and Brittany Firman, and Hannah Bill and Katy Vaccariello. All are students in the Fashion Entrepreneurship course taught by Ashlee Rzyczycki, who said, "This recognition speaks volumes about the high-quality work of our Mercyhurst students."
The goal of the competition is to empower students to become change agents through the application of socially responsible business practices to fashion retail development. The business plans, either for a traditional brick-and-mortar retailer or a non-store retailer, required eight sections: Sustainable Strategy, Business Concept, Industry and Market Analysis, Competitive Analysis, Target Customer, Sourcing Structure, Marketing Strategy, Budget, and Overall Presentation.
The finalists are now invited to attend the International Textile & Apparel Association Annual Conference in Las Vegas, Nevada, in October, when industry professionals working in the areas of sustainability and environmental responsibility will evaluate the 10 posters. From there, the judges will determine the top three submissions, which will be announced on the final day of the conference at a special awards ceremony.
PHOTO: Clockwise from top left: Brittany Firman and Olivia Zucchi with business plan Sargasso; Chloe Speranza and Mia Vassallo with be; Katy Vaccariello and Hannah Bill with Take Two; and Jillian Setek and Mary Jacobs with Jill Jacobs.
Learn more about Mercyhurst's Fashion Merchandising program.