Exotic Pink Martini returns to Mercyhurst stage
Monday, September 17, 2018
International sensation Pink Martini will bring its eclectic stylings to the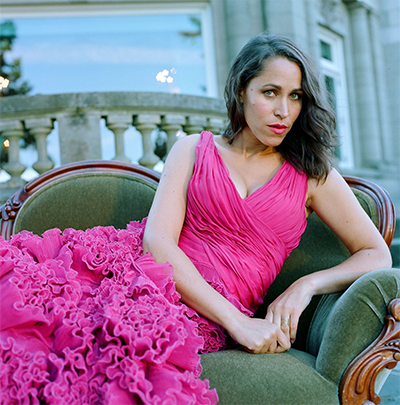 Mary D'Angelo Performing Arts Center on Thursday, Oct. 4, as part of the Mercyhurst Institute for Arts & Culture's 2018-19 MIAC Live series.
Pink Martini's diverse repertoire is a blend influenced by Cole Porter, Duke Ellington, Tito Puente and Xavier Cugat as well as Argentine tango, Brazilian samba, Italian folk, Asian and romantic Hollywood musicals of the 1940s and '50s.
Pink Martini traces its roots to 1994, when founder and bandleader Thomas Lauderdale created the "little orchestra" to provide beautiful and inclusive musical soundtracks for political fundraisers. A year later, he teamed up with former Harvard classmate China Forbes, and in 1997, their first song "Sympathique" became an overnight sensation in France.
Now featuring a dozen musicians, including Forbes as the lead vocalist and Lauderdale on the piano, Pink Martini performs on concert stages across the globe. The ensemble made its European debut at the Cannes Film Festival in 1997 and has gone on to play with more than 50 orchestras around the world. Such performances include multiple engagements with the Los Angeles Philharmonic at the Hollywood Bowl, the Boston Pops, the National Symphony at the Kennedy Center, the San Francisco Symphony, the Cleveland Orchestra and the BBC Concert Orchestra at Royal Albert Hall in London.
Pink Martini has garnered television appearances on The Late Show with David Letterman, Late Night with Conan O'Brien, The Tonight Show with Jay Leno, the BBC's Later with Jools Holland and a feature on CBS Sunday Morning. In 2015, the band created an NPR holiday special, Joy to the World: A Holiday Spectacular, and has been featured on New Year's Eve broadcasts on NPR's Toast of the Nation.
The band has collaborated with an illustrious list of celebrated artists and, in 2012, was inducted into both the Hollywood Bowl Hall of Fame and the Oregon Music Hall of Fame. Since releasing Sympathique in 1997, Pink Martini has produced nine studio albums and sold more than 3 million copies worldwide. Their albums contain songs in multiple languages, affirming the band's 24-year history of global inclusivity and collaborative spirit.
Tickets are $30 for adults, $25 for seniors and $20 for students and youth 12 and younger. Tickets can be purchased at miac.mercyhurst.edu or by calling the box office at 814-824-3000.
The 2018-19 MIAC Live series is made possible through the generosity of Scott Enterprises, Cumulus Media and the Erie County Gaming Revenue Authority. This performance is sponsored by Dr. & Mrs. Robert Guelcher and 94.7 Bob FM.