Erie native VADM Matthew Kohler to speak at graduation
Thursday, April 26, 2018
Erie native Vice Admiral Matthew Kohler, whose distinguished career in information warfare and naval intelligence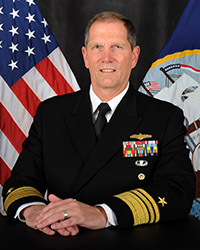 spans more than three decades and 15 assignments, will address the 2018 graduating class of Mercyhurst University during its 90th Annual Commencement on Sunday, May 13, at 2 p.m. in the Erie Insurance Arena.
The commander, U.S. Naval Information Forces and nominated deputy chief of Naval Operations for Information Warfare and Director of Naval Intelligence, will relate his perspective of the competitive world today's graduates are entering.
Kohler grew up in Erie, Pennsylvania, the son of Sally Kohler, who is a 1951 Mercyhurst alumna, career educator, and Mercyhurst Alumni Board of Director member for nearly 30 years. She continues as an emeritus member of that group. Her sisters, Judy Alstadt and Mary Pat Schlaudecker, also of Erie, share Mercyhurst as their alma mater, graduating in 1953 and 1964. Kohler has a twin brother, Michael, of Erie and three sisters, Rebecca Johnson and Natalie Grasinger, both of Erie; and Ellen Croft of North Carolina. Their father, Joseph Kohler, was a career educator in the Erie School District before his passing in 2012.
Kohler attended Strong Vincent High School and graduated from Indiana University of Pennsylvania in 1983, achieving accolades as an All-American swimmer. He was commissioned in 1984 through the Aviation Officer Candidate School, Pensacola, Florida, as a naval intelligence officer. Kohler holds a master's degree from the U.S. Naval Postgraduate School in computer science and from the U.S. Army Command and General Staff College in military history.
He has served as commander, Naval Information Forces, Suffolk, Virginia, since its establishment in October 2014, aligning information warfare with more traditional warfare communities to deliver naval and joint operational commanders with combat-ready information warfare forces to execute missions in support of U.S. interests worldwide.
Kohler has served in fleet, interagency, and combatant command leadership positions as an information warfare officer since his promotion to admiral nearly eight years ago, including director of intelligence, U.S. Africa Command, Stuttgart, Germany; deputy director of naval intelligence, Washington D.C.; deputy commander, Fleet Cyber Command/U.S. 10th Fleet; and deputy chief of tailored access operations, National Security Agency, Fort Meade, Maryland.
As an intelligence officer, he's deployed worldwide supporting combat operations in numerous aircraft carrier strike groups and amphibious ready groups. His shore assignments prior to promoting to admiral include U.S. Naval Forces Europe, London, U.K.; Bureau of Naval Personnel, Washington, D.C.; Joint Warfare Analysis Center, Dahlgren, Virginia; U.S. Special Operations Command, Tampa, Florida; and Joint Interagency Task Force South, Key West, Florida.