Erie launches new Secure Smart City™ pilot project
Thursday, April 19, 2018
Erie Mayor Joe Schember and Erie Innovation District (EID) CEO Karl Sanchack today announced the roll-out of a Secure Smart City™ pilot project designed to drive economic growth and improve the quality of life for the city's residents and visitors.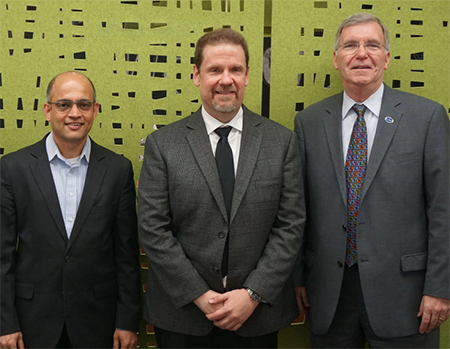 "Cities worldwide are using state-of-the-art technology to reduce traffic congestion, enhance connectivity, promote economic development, fight crime and make local governments more efficient and responsive," said Schember. "We are excited to be part of this cutting-edge project as we move to transform Erie into a center of innovation."
The pilot project is expected to take shape on State Street, between 6th and 12th streets, as early as July. The initiative comes as the result of an agreement reached among the city, the innovation district and lead partner Mercyhurst University, and Quantela, a global smart-city solutions and data analytics company. As a partner of Cisco Smart+Connected Communities, Quantela has successfully deployed other smart-city projects worldwide, and will work locally with EID partner Velocity Network (VNET) to:
Provide broadband W-Fi access across Perry Square.
Install energy-efficient LED lighting on an estimated 66 existing poles to connect traditional street lighting, increase efficiency and reduce costs.
Install two new poles with video surveillance capabilities in Perry Square to enhance security and automatically alert authorities to potential threats.
Quantela will deploy Cisco Kinetic for Cities IoT Platform to aggregate data from various types of sensors and display real-time information on a city dashboard. As an example, if the surveillance system in Perry Square were to identify an unattended package, an alert would be transmitted via the dashboard to the appropriate authorities to investigate.
"With Quantela, Cisco Kinetic for Cities delivers the necessary information to drive data-driven decisions to improve public safety, energy efficiency and quality of life for Erie's residents," said Cisco SLED East Vice President Shannon Leininger.
The pilot project is being financed with $300,000 in EID funds. Beginning on a small scale enables the city to assess its needs, get government and community feedback, fine-tune implementation and attract funding sources for expansion of the project citywide. 
Once created, the smart-city ecosystem is expected to connect with the entrepreneurial ecosystem, specifically through the Secure Erie Accelerator, sponsored by the innovation district and Silicon Valley's Singularity University. (See separate story.) Just last week, the accelerator began accepting applications from start-up companies around the world focused on data science, safety and cyber security with an emphasis on those firms concentrating on innovative solutions for smart-city security issues.
"With so many connected devices and incredible amounts of data being generated, security becomes a particular concern," Sanchack said. "As a Secure Smart City™, our design keeps security top-of-mind to protect against IoT (Internet of Things) threats and to safeguard the city's operations, public safety and citizens' privacy."
Each of the 10 firms selected for the accelerator will be eligible to receive up to $100,000 in funding from the innovation district and Ben Franklin Technology Partners. The companies will participate in a 10-week program at the innovation district's downtown Erie headquarters this summer, during which they'll have access to Singularity's expert faculty, proven innovation tools and methods, and a vast network of industry experts and entrepreneurs to provide mentorship and access to funding.
"The smart city and accelerator projects are a critical step in building Erie's recognition on a national and international stage as the destination city of choice for data science, safety and cyber security," Sanchack said.
Quantela CEO Sridhar Gadhi said, "We are extremely honored to partner with the Erie Innovation District and the City of Erie to deploy our expertise of having implemented many smart city projects worldwide. We see this pilot project as a stepping stone toward the transformation of Erie as a tech hub for smart city and industrial IoT solutions that could be deployed across other projects in the USA and globally."
PHOTO: (L-R) Krishna Prasad representing Quantela, Erie Innovation District CEO Karl Sanchack and Erie Mayor Joe Schember.