Erie Innovation District finds new home at VNET
Thursday, December 06, 2018
The Erie Innovation District is on the move.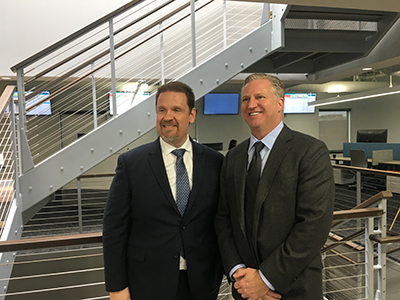 After a year as tenants of the Erie Insurance Innovation Center at 717 State, the EID will take up residence at Velocity Network's new headquarters a few blocks south at 121 W. 10th. Move-in day is Monday, Dec. 17.
Like Erie Insurance, VNET is one of the founding partners of the innovation district, led by Mercyhurst University, and has played a pivotal role in the EID's efforts to transform Erie into a destination for secure cyber and connected services. EID and VNET worked together to shape Erie as a Secure Smart City™, bringing  public Wi-Fi and state-of the-art video surveillance to Perry Square as well as energy-efficient LED lighting.
"Working side by side in a dynamic, high-tech environment like Velocity Network's new headquarters will create a great synergy for both of us," said EID President & CEO Karl Sanchack. "Plus, living in the city's newest data center supports our original intention to cluster anchor businesses, startups and academia in a physical footprint between 7th and 13th streets, Sassafras to French. This puts us in proximity to our friends at Radius Co-Work and proposed growth locations for Marquette and Gannon, creating a nucleus from which the city can further expand businesses." 
Sanchack added that he is grateful to Erie Insurance for its support, especially in providing a startup location, which enabled the EID to pivot quickly into a successful launch and sustain forward momentum.
"I'd be remiss if I didn't also thank Mercyhurst for its ongoing support; but for the university's willingness to take a risk on changing the narrative about our city and its future, we would not be here today," he said.
VNET CEO Joel Deuterman said he's intrigued by the opportunity to share space with Sanchack and his EID collaborators, which include five of the nine companies in the EID's Secure Erie Accelerator that elected to stay in Erie.
"As a founding partner and board member of the Erie Innovation District, I have known Karl Sanchack from the beginning," Deuterman said. "I've said it before and I stand by it, Karl is a man of execution. The fact that he'll be under my roof is very powerful to me."
EID board member and Mercyhurst Provost Leanne Roberts said, "This latest development is consistent with our vision of connecting the smart-city ecosystem with the entrepreneurial ecosystem and creating a niche for Erie that makes us unique as a business destination. Karl and Joel are both visionaries and their collaboration can only mean good news for Erie." 
VNET opened its new headquarters in the former Rothrock Building last month. At the time, Sanchack told the Erie Times-News, "It's emblematic of what we want to try to do throughout the entire downtown. A lot more digital capabilities, a lot more cyber capabilities, provide a new look, a new feel, and a new workforce."
Deuterman said the EID will have full access to the common areas on the first floor, 10 private spaces on the second floor, and another eight on the third floor. Sanchack's office will be situated directly next to Deuterman's on the fourth floor.
Both speak to a match with limitless potential. "In a lot of ways, I assisted Karl in navigating the local terrain, especially being new to Erie, but he's also become something of a mentor to me," Deuterman said. "Coming from Lockheed Martin and working in that echelon for most of his life brings a depth of experience that I haven't been privy to."
Sanchack added, "We are of like mind. We both want to see the city succeed and are committed to seeing it through. Being co-located only strengthens a relationship that has been strikingly successful since day one."