EID welcomes nine new companies to Erie for accelerator
Wednesday, July 25, 2018
A new wave of companies has arrived in Erie for the Secure Erie Accelerator (SEA), a program operated by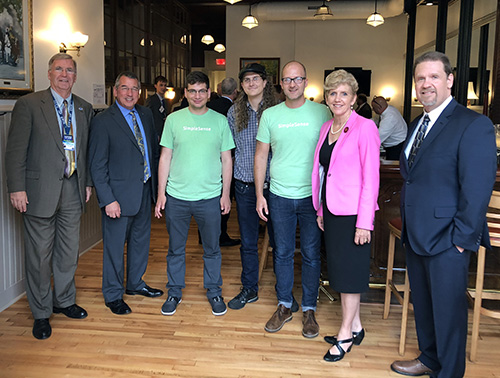 the Erie Innovation District (EID) in coordination with Singularity University, a global technology thought leader based in Silicon Valley. The 10-week accelerator, which begins July 24 in the EID offices at 717 State St., hosts nine newly established technology businesses from across the U.S. and Canada.
The inaugural cohort was announced Tuesday, July 24, during an SEA launch event at 6 p.m. in the Erie Insurance Events Center at the Firehouse. EID President and CEO Karl Sanchack introduced the companies to a gathering of business, government, academic and civic leaders, among them EID board members, including new chair Joe NeCastro; County Executive Kathy Dahlkemper and Mayor Joe Schember; all of whom addressed the group.
As SEA members, the companies will receive intensive training, mentorship and funding in hopes that they will establish part, if not all, of their operations in Erie over the next few years. A representative from each company spoke briefly about their respective business as part of Tuesday evening's presentation.
"We received applications from more than 36 countries," Sanchack said. "We specifically selected companies that fell directly under IoT (Internet of Things) and cybersecurity-related categories, but we also made sure that these companies had a genuine interest in establishing an outpost in Erie upon completion of the program."
The SEA focus complements the EID's Secure Smart City™ initiative through which the City of Erie and Quantela Inc., with support from Velocity Net Inc., are making extensive infrastructure improvements in Wi-Fi access, surveillance and smart LED lighting downtown. Companies enrolled in the SEA program will have a unique opportunity to use the city as a test-bed for various solutions, which ultimately will put Erie on the cutting edge of new technologies, creating a safer, more efficient downtown and a better quality of life for local residents.
Sanchack named the cohort companies as:
Weather Check

INFRA

Rebric

Jauntin

Simple Sense

Kwema

Smart Drivinc

Myriad Data Solutions

CityGrows
"We are on the verge of a new and prosperous industry in Erie," said NeCastro. "Instead of focusing all of our energy on revisiting the past, we are looking to create a new economy centered on IoT and cybersecurity. As a result, this program has the potential to produce many high-paying jobs for the region."
For more information regarding Erie Innovation District, a partnership led by Mercyhurst University, and the Secure Erie Accelerator program, visit www.erieid.com
PHOTO (L-R):  Erie Mayor Joseph Schember, Timothy NeCastro, CEO of Erie Insurance; Alex Brickner, Mark Lorkowski and Eric Kanagy, co-founders of SimpleSense; Erie County Executive Kathy Dahlkemper; and Karl Sanchack, CEO of the Erie Innovation District, celebrate the launch of the Secure Erie Accelerator. (Photo credit: Andrew Steinmetz)