Double-take: Twins add to police academy story
Monday, January 07, 2019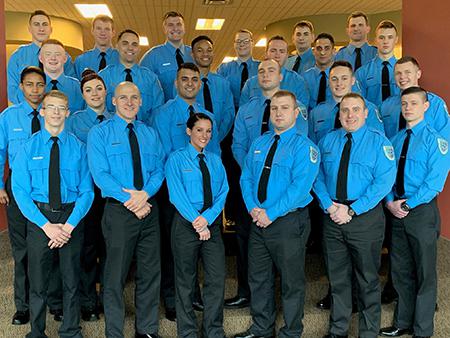 Twenty-four cadets, among them three with twin siblings, were among the recent graduates of Mercyhurst University's Municipal Police Training Academy.
Class 112 graduated on Dec. 21, 2018, at 11 a.m. in the Ridge Great Room at Mercyhurst North East. Typically there are interesting stories that accompany each graduation, and this one was no exception, with Casey King, Ashley Powell and Patrick Carne all twins whose siblings were there to cheer them on. 
The guest speaker was Honorable John J. Trucilla, President Judge, Erie County Court of Common Pleas.
Upon completion of the program, students are prepared for positions as police officers, park rangers, municipal authority officers and many other positions within the criminal justice system.
Class 112 included the following cadets:
Hashum Al-Bidhawi, Shaquille Arroyo, Patrick Carne, Louis DiSanti, Andrew Gannoe, Jessica Graver, Matthew Guyton, Casey King, Kyle Kunz, Tyler McKinney, Joshua Olszewski, Ashley Powell and Ryan Sherwood-Ericsson, all of Erie
Alyssa Angelo of Cambridge Springs
Blaine Berg of Jamestown, New York
Alec Colosimo and Austin Schwanke, both of Warren
Francis Hermann II of Edinboro
Cole Lewis of Union City
Kyle Mariacher of Sharon
Jerome Mountain III of Lake City
Ryan Polichena of Ravenna, Ohio
Richard Pottorf III of Harborcreek
Victoria Stewart of Waterford
Cadet Victoria Stewart received the academic achievement award with a final grade of 97.6 percent. Cadets Alec Colosimo and Ryan Sherwood-Ericsson received the firearm proficiency award with a perfect score of 300 using a handgun.