Dirkmaat earns highest AAFS honor in lifetime achievement award
Friday, February 21, 2020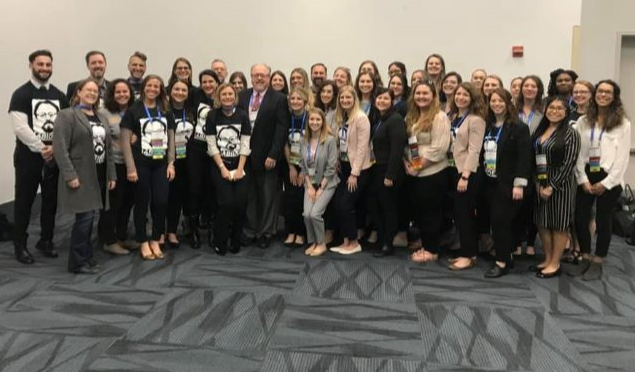 Heading to Anaheim, California, this week for the 72nd Annual Scientific Meeting of the American Academy of Forensic Sciences, Mercyhurst's Dr. Dennis Dirkmaat was well aware that he would be receiving AAFS's inaugural Outstanding Mentorship Award. The announcement was made prior to the national meeting and congratulatory messages followed one after another.
What he didn't know, and what he learned Wednesday during the awards ceremony, was that he was also named recipient of the T. Dale Stewart Award, the highest honor offered by the Academy to a forensic anthropologist.
There to celebrate the big moment with him was Dr. Steven Symes, who received the same award in 2009 when he was a professor in the Applied Forensic Sciences Department at Mercyhurst. Current faculty members and students as well as former students and colleagues were also among the well-wishers.
Luis Cabo-Perez, director of the Forensic and Bioarchaeology Laboratory, who has been part of Dirkmaat's team since 2003, said that Symes received the award for his "outstanding contributions to forensic bone trauma analysis." Dirkmaat, he noted, is recognized for his "outstanding contributions to forensic archaeology and forensic taphonomy" and is considered one of the world's foremost experts, particularly in applications such as mass disaster victim identification and scene response.
The Stewart Award recognizes remarkable lifetime contributions to the field of forensic anthropology. It is not presented every year and, in its 40 years of history, the Academy has decided not to award it on many occasions. Its status is that exclusive.
Formerly known as the "Physical Anthropology Section Lifetime Achievement Award," it was renamed in 1987 after T. Dale Stewart, one of the founding fathers of modern forensic anthropology.
Dr. Alexandra Klales (Washburn University) made the announcement immediately after Dirkmaat had been presented with the Mentorship Award. As both a Mercyhurst alumna and former Mercyhurst faculty member, Klales was chosen by the AAFS Award Committee to present the award to her former mentor and advisor.
The annual meeting, meanwhile, was attended by four Mercyhurst faculty and 12 graduate and undergraduate students, who delivered presentations and used the opportunity to learn and network. Many of them also worked volunteer positions assisting the meeting's organization. Besides Dirkmaat's awards, a presentation from Mercyhurst grad student Paige Lynch's master's thesis research, won the Student Affiliate Scholarship of the Forensic Science Foundation.
Among the presenting faculty were Dirkmaat, Cabo-Perez, Dr. Joe Adserias-Garriga, Dr. Leslie Fitzpatrick, and Dr. Michael Foulk.
PHOTO: Students and colleagues celebrate Dennis Dirkmaat's awards at the 72nd Annual Scientific Meeting of the American Academy of Forensic Sciences.