Design students exhibit senior thesis projects
Thursday, May 02, 2019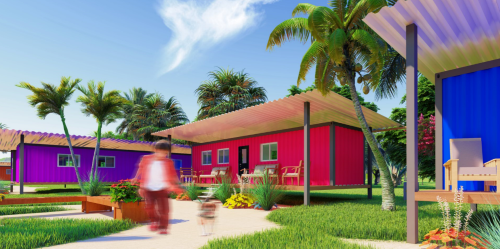 Final projects by 13 graduating seniors in the Department of Interior Architecture & Design at Mercyhurst University will be on display Saturday, May 11, from 3 to 5 p.m. at 3928 Wayne St.
Each student was asked to identify a problem that can be addressed through the design of a unique built environment, and to find new and better ways to create interior environments that support health, safety and well-being.
The thesis projects run the gamut from a youth center designed for youths with autism to a contemporary speakeasy to a natural disaster relief shelter. 
Participating students and their thesis projects include:
Chris Brightman – Safe Space, a youth center designed for autism
Leah Clendaniel – Library 19, public library fire prevention
Sara Fisanick – Hideaway, a nonprofit facility for the impoverished
Hannah Fox – Niche, a women's refuge
Dominic Gardunio – Diverse Villa, a neighborhood hangout for cultural differences
Tiara Johnson – Civism, a male rehabilitation center
Gabriella Macera – Freshstart, a community resource center
Maria Matesa – LAX, Los Angeles Airport terminal renovation
Victoria Migliaccio – Aloha, canine assisted wellness center
Mary Murphy – Purrfect Friends, cat wellness and adoption center
Lauren Ostrzyzek – The Dobler House, historic restoration and rehabilitation
Amanda Smith – Heaven Hill, a contemporary speakeasy
Erin Webster – Czone, natural disaster relief shelters
For more information, contact Department Chair Kathy Weidenboerner.
PHOTO: Czone, natural disaster relief shelters, designed by Erin Webster.