Dean's list feather in cap for 71-year-old MNE student
Monday, March 25, 2019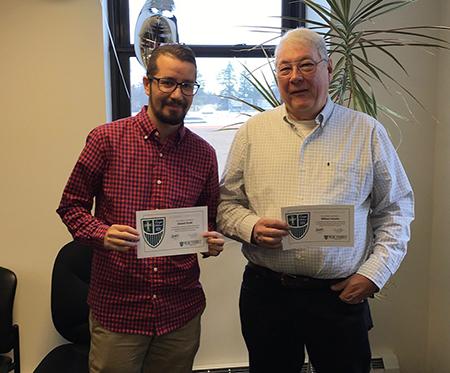 Bill Schutte has a lot of titles – veteran, husband, father, grandfather, electrician, manager and retiree. 
Recently the 71-year-old North East resident added outstanding student to that list.
Last semester marks the third consecutive semester Schutte has made the Dean's List at Mercyhurst North East for achieving a grade point average of 3.5 or higher.
"Being on the Dean's List was never a conscious goal," said Schutte, who is majoring in Computer Systems Support. "Doing things to the best of my ability was the most important factor for me to achieve."
Getting a college degree has always been on Schutte's list. After serving with the U.S. Navy in Vietnam, he was accepted through the GI Bill as an art major at Edinboro University, but decided to enter the workforce to better support his wife and family.
He began working at GE in 1972, a career that would span 30 years as an employee, 13 more as a pensioner, and include numerous promotions and projects as well as travel to Japan, Indonesia, Chile, Brazil, Singapore, Bali, Mexico, and Canada.
GE provided plenty of ongoing education and courses. But a rigorous travel schedule meant Schutte simply wasn't home enough to get a degree.
Schutte's opportunity came in 2016 when he was laid off from GE. Because his job was lost as a result of foreign trade, he qualified to receive the full cost of tuition at an accredited two-year program through the Trade Adjustment Assistance program funded through the U.S. Department of Labor.
"This fulfills something I wanted to accomplish in my life's goal set," he said. "I chose MNE because it was more suited for me with smaller classes and attention to the students."
His major picks up on an interest that began in the 1980s when GE sent him to the first IBM PC school.    
"I wanted to know more about the advancements since then on a more involved hardware level," he said.
Schutte said he had some reservations about fitting in, but from those butterflies new friendships have blossomed.
On the first day of classes, Schutte met Jaouad Azzab, a 29-year-old student with the same major. Taking almost every class together, they've been inseparable since.
"I was inspired by him because he was going after a dream and was very serious and passionate about it," said Azzab, who moved to Erie from Morocco in 2015. "It seemed like it was going to be really hard for me to go back to school after being out for a while, and seeing Bill coming to class and working hard reminded me that it is never too late.
"As an immigrant, it was difficult for me to get used to a new country and a new culture. Bill was one of my first real friends in this country. He is always there to help anyone who asks. He treats people like people, regardless of who they are or where they come from.
"I think that you could say that we've learned a lot from each other…his friendship means a lot to me."
PHOTO: Jaouad Azzab, 29, and Bill Schutte, 71, met on the first day of classes and have supported and motivated each other since, both earning Dean's List recognition for the past three semesters.