Dausey to become Duquesne provost in native Pittsburgh
Thursday, February 01, 2018
Mercyhurst University Provost and Executive Vice President Dr. David Dausey will be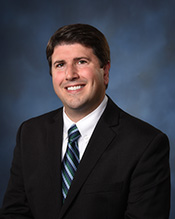 leaving his alma mater at the end of the academic year to assume the position of provost at Duquesne University in his native Pittsburgh.
Mercyhurst President Michael Victor apprised the college community via email on Thursday, Feb. 1, at 2 p.m., the same time as Duquesne was sharing news of Dausey's selection with its internal audience.
In acknowledging Dausey's departure, Victor said, "Dr. Dausey has been a steadying, positive influence at the university, shepherding us through some of the best and worst of times. He began his tenure here in 2011, when he launched our public health program. As academic dean and provost for the past three years, he led a complete academic restructuring including new colleges, new administrative deans, a new calendar and curriculum overhaul. He leaves behind a legacy of scholarship, efficiency and courage under fire."
Dausey, meanwhile, said the opportunity at Duquesne allows him to return to his hometown, where his parents and extended family live. He and his wife, Nichole, have two young sons, Eli and Danny.
Dausey came to Mercyhurst from Pittsburgh, where he was a professor at Carnegie Mellon University and the senior director of health programs and initiatives at CMU's Heinz College.
An internationally respected public health and health care expert, Dausey set aside his teaching career to join the Victor administration in August 2015, when Victor was named the university's 12th president. Not only did Dausey oversee pivotal changes in the life of the university these past three years, including a complete academic restructuring, but he was active in service to his community, most notably as chair of the Erie Innovation District.
In accepting the Duquesne position, Dausey said he views Mercyhurst and Duquesne as "kindred souls," closely aligned in values and mission with both institutions sharing a strong Catholic heritage.
"Returning to Pittsburgh is a homecoming for me and my family, but Mercyhurst will always be my alma mater and I love everything about it. It is irreplaceable."
The administration is considering internal candidates to fill Dausey's role and expects to make an announcement next week.