Corbran, Frank honored as exemplary staff members
Tuesday, May 22, 2018
Mercyhurst University recognized the contributions of its staff members to the success of the university and its students during the year-end Staff Senate Meeting May 22, drawing particular attention to two individuals: the recipient of the Commitment to Mission Award and the Staff Person of the Year.
The 2018 Commitment to Mission Award went to Public Relations Coordinator Sue Corbran. Following is an excerpt from her nomination: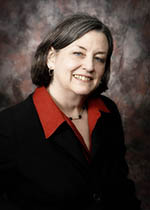 I think we often tend to give awards to people on the front lines, people who appear to be the movers and shakers. But, there is that rare employee whose kind and gentle nature, quiet dedication and willingness to take the back seat that make a unique and special contribution to the greater good.
For more than 12 years, Sue has been the thread that weaves us all together through the Morning Buzz. Day in, day out, she chronicles the Mercyhurst story, sharing faculty and student accolades, colleagues' birthdays, introducing new members to the community, and giving everyone's event its due attention.
In our office, we call her The Oracle because she holds so much Mercyhurst history in her head and in her heart. She is, after all, an alum. As editor of the Mercyhurst Alumni Magazine, she brings the same steadfast commitment to maintaining our traditions, sharing our progress and unifying our passion for all-things-Mercyhurst. She is also working this year on organizing many of the photos of Mercyhurst that are scattered unattended in piles in the library.
This past year, she volunteered for Mercyhurst at the Second Harvest Food Bank and became a board member of the House of Mercy. And as the board prepared for its annual fundraising tea this spring, Sue agreed to do the job that no one else wanted – iron tablecloths!
Lindsay Frank, director of alumni engagement, was honored as Staff Person of the Year. Following is an overview of her recent accomplishments: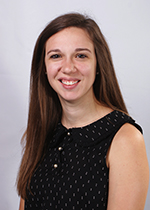 Lindsay has been the leader of record-setting Giving Day events for two straight years, attaining all-time highs for both number of donors and dollars raised again this year. Specifically, this month she led an incredible effort to boost support from Mercyhurst employees, doubling participants from 106 a year ago to 215 on Giving Day 2018.
Under Lindsay's leadership, this year's annual fund achieved its goal a month ahead of schedule and is on pace for the second-highest total in history. The Senior Gift Committee overcame the odds of not building their own campus landmark and instead raised more $15,700 with 63 percent participation to help create the Sister Lisa Mary McCartney Endowed Scholarship for future students.
Lindsay has also led efforts working with the 50th Reunion Class – efforts that are leading to a record number coming to campus to celebrate their reunion next month; they have also committed more than $70,000 to establish the Class of 1968 Gift.
On top of her regularly assigned duties, Lindsay also is a committee chair on Staff Senate and is on the Hurst Day Planning Committee. She single-handedly plans and executes the extremely popular Scavenger Hunt which has grown from 73 teams in 2015 to over 140 teams in 2017.