City of Erie, Mercyhurst present 2nd annual 'Lights over Lake Erie'
Thursday, May 23, 2019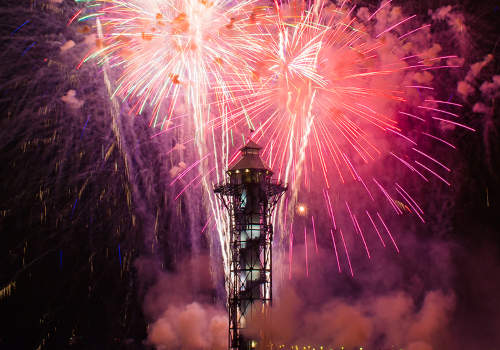 The City of Erie and Mercyhurst University announced today that for the second year in a row they will collaborate on presenting Independence Day fireworks over Erie's Bayfront.
At his regular Thursday morning news briefing, Mayor Joseph Schember announced the 2nd annual 'Lights Over Lake Erie,' which will launch from the Bicentennial Tower at Dobbins Landing at 10 p.m. on July 3.
Mercyhurst University is the presenting sponsor for the fireworks. In announcing Mercyhurst's participation, university President Michael T. Victor said, "After the 22 years that we hosted the 4th of July Fireworks on our campus – only stopping when the crowds became so large that public safety was a serious concern – fireworks and Mercyhurst have seemed inseparable.
"So, mayor, we're glad you came knocking on our door last year to help you resume this holiday tradition for our city and, of course, commemorate the birth of the United States as an independent nation."
The mayor said that the show will be synchronized with patriotic music, broadcast on Star 104. The fireworks display will again be conducted by Pyrotechnico.
For more information, visit lightsoverlakeerie.com.