'Briggs' bounces back, heads to forever home
Tuesday, May 08, 2018
After an odyssey that would do in many a human, Briggs the cat has bounced back in a colossal way, and is headed to a new home.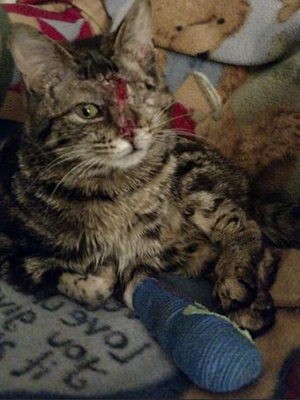 Back in early April, Mercyhurst University students Megan and Shannon Minihane and Natalie Graff were on Briggs Avenue when they heard something odd. It sounded like a wounded animal. Sure enough, they discovered a 7-month-old female kitten cowering under a sewer grate and whimpering in distress. She had apparently been struck by a car.
In short order, the students retrieved her with the help of first responders and Orphan Angels Cat Sanctuary and Adoption Center. Their combined rescue efforts, and immediate fundraising campaign, led to the newly christened "Briggs" being taken to Wintergreen Animal Hospital for care.
The feline's appearance was ghastly; she had nearly withered away, and was suffering from severe trauma that required facial reconstruction and the loss of one eye. Having staved off a life-threatening trauma, veterinarian Amanda Jones wasn't about to let Briggs lose her battle for survival. After all, she loved cats! She and her husband, Mercyhurst Chemistry Professor Clint Jones, have fostered 124 of them in their years together.
Numerous IVs, pain control meds, antibiotics and surgeries later, Briggs is going home Wednesday, May 9, thanks to a Wintergreen client who saw the story on the news and offered to adopt her.