BNI, 'Hurst students wrap talents around scarf project
Friday, April 27, 2018
Students at the Elizabeth Lee Black School (ELBS) at the Barber National Institute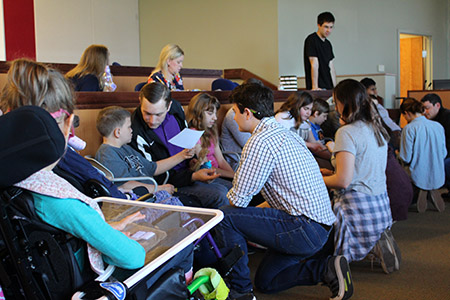 and Mercyhurst University graphic design students are wrapping their talents around a wearable art project: scarves.
Assigned themes like nature, geometric shapes and animals, the art students were charged with creating drawings to share with the graphic design students, who would then draw inspiration from those images to design beautiful scarf patterns.
The project supports a popular BNI fundraiser, the Ladies Only Luncheon, held each November at the Kahkwa Club. The luncheon hosts an estimated 450 women and typically sells out. Despite all the fancy gift baskets and prizes, one of the more popular features of the luncheon is the sale of BNI client works.
This year's Ladies Only Luncheon committee came up with the idea of having students design scarves. Since the Barber National institute and Mercyhurst have collaborated on other programs in the past, the thought of engaging the help of their graphic design students was a natural next step.
"I was thrilled," said Jodi Staniunas Hopper, Mercyhurst Art Department chair. "I'm always talking to the students about giving back, and this is just the kind of opportunity I meant. They are fully engaged."
The project involves 16 ELBS students and 16 Mercyhurst graphic design students. The Mercyhurst students recently visited the Barber National Institute to collect the student art works, and are currently in the process of creating their designs, which will be unveiled on Wednesday, May 2, from 10 to 11:50 a.m. in room 100 of the Audrey Hirt Academic Center at Mercyhurst. From there, committee members will select the designs that they would like to see printed on fabric and sold as scarves at the luncheon.
"We are always looking for ways to work together with the Erie community, so we are pleased that Mercyhurst is able to collaborate with our students to make these unique pieces," said Maureen Barber-Carey, executive vice president of the Barber National Institute. "The guests of the Ladies Only Luncheon are always excited to see what fun works we have from the students from year to year. I'm sure the scarves will be quite popular."
Despite its practical benefit, when all is said and done, the project will have provided a source of pride and accomplishment to 32 students who combined their talents to make it all happen.