Blessings bestowed on Women with Children Program
Monday, October 29, 2018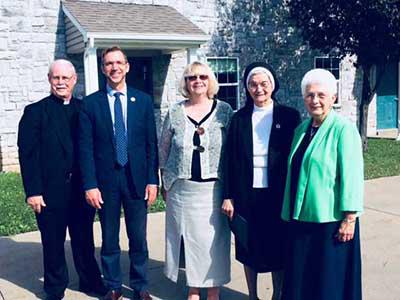 Members of the Mercyhurt North East family recently gathered for a blessing of the five-townhouse unit that is home to the new Women with Children Program (WWC).
The program is designed to empower economically challenged single mothers by providing the support necessary to complete a college degree and create brighter futures for themselves and for their children.
The blessing was presided over by (see photo, l-r) Father Tom Brooks with MNE representatives Dr. David Hyland and Jackie Fink, along with Sister Mary Felice Duska and Sister JoAnne Courneen.
Three families are among the inaugural cohort and two more are expected in January, according to program director Jackie Fink. The group includes three women and four children, ages 2 to 4. The women are majoring in Practical Nursing, Registered Nursing and Health Studies.
To be admitted, the single mothers are required to complete the standard admissions process and be at or near the poverty level with no more than two children, ages 2 to 10.
The WWC program removes many of the roadblocks that may have stifled the single mothers' previous attempts at an education by providing on-campus housing, academic and financial support, family enrichment programming, career services, on-campus counseling and a safe and secure environment.
To learn more about the program or to apply, contact the program director Jackie Fink at jfink@mercyhurst.edu or 814-725-6399. Or visit the WWC webpage.