Basketball star Patrick Smith performs title role in Mercyhurst opera
Monday, April 15, 2019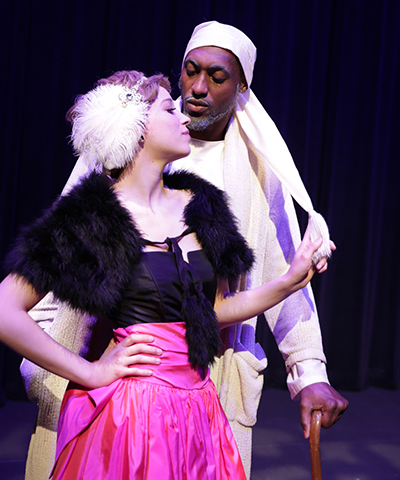 Patrick Smith – one of the heroes of this year's Mercyhurst men's basketball team – will be in the spotlight in a far different role at the end of April.
Smith, who will graduate in May with a music degree, will perform the title role as the D'Angelo Opera Theatre presents Donizetti's comic opera Don Pasquale.
This is not only Smith's first time playing an opera lead; it's his first time ever appearing in an opera. And when she cast him in the title role a year ago, director Louisa Jonason had no idea that he'd be spending much of March on the road as the Lakers advanced through their conference tournament, then the regional championships, and eventually the NCAA national Elite Eight.
But she insists she didn't worry. "He's an exceptional person and an exceptional musician. And I knew he was tenacious enough to learn the part."
Smith transferred to Mercyhurst as a junior in 2017. He'd been recruited to play basketball, but also quickly found a niche in the D'Angelo Department of Music. In addition to preparing for the opera, he provided vocal accompaniment for several student choreographers during the Dance Department's recent production of Raw Edges XXI. The same weekend as the opera, he'll also solo with the Mercyhurst Jazz Ensemble on "How Long Has This Been Going On?"
Jonason says Don Pasquale is always an audience favorite, an extremely funny opera full of mistaken identities and lots of comic confusion. It's sung in English, making the plot easy to follow, and is relatively short, clocking in under two hours.
She chose it as a showcase for two of her protegés, Smith and junior Lydia Bolin, who's also making her opera debut as Norina.
Smith plays Don Pasquale, a crochety old miser who's ready to disinherit his nephew Ernesto (played by Gabriel Borrero '15) because he doesn't approve of Ernesto's chosen bride, Norina. It takes some clever scheming by their friend Dr. Malatesta (Jake Shearer '18) to set things right and teach Don Pasquale a lesson.
Jonason adds with a laugh, "Patrick was a winner during the basketball season, but he's going to be losing in the opera."
The original Don Pasquale was set in mid-19th century Rome, but Jonason instead is setting it during the Roaring 20s. She made her own New York opera debut in a production of Don Pasquale that was also updated to the '20s, playing Norina in a flapper dress and Jean Harlow wig.
For the second year, the Mercyhurst Civic Orchestra – directed by Jonathan Moser – will play the score.
The D'Angelo Opera Theatre will perform Don Pasquale twice, on Friday, April 26, at 8 p.m. and on Sunday, April 28, at 2 p.m., in the Mary D'Angelo Performing Arts Center. Tickets are $15.50 for adults, $12.50 for students/youth, and can be obtained by visiting miac.mercyhurst.edu or calling the box office at 814-824-3000.
PHOTO: Lydia Bolin and Patrick Smith