ASN Career Fair opens doors for Mercyhurst nursing students
Tuesday, February 19, 2019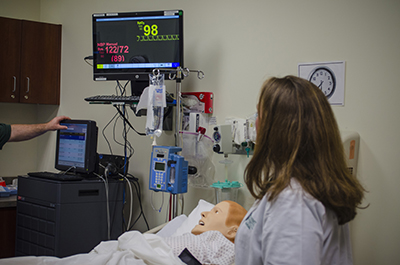 Mercyhurst University will host a Career Fair for its Associate of Science in Nursing (ASN) degree candidates on Friday, Feb. 22, from 10 a.m. to 2 p.m. in Ryan Hall.
 
The 50+ registered nursing students slated to graduate this spring can expect to hear a variety of career opportunities from more than 15 local agencies that have registered to attend, a strong indicator of the demand for today's ASN graduates.
 
Nursing is unique among the health care professions in the United States in that it has multiple educational pathways leading to an entry-level license to practice. Mercyhurst offers a variety of programs, from a one-year LPN certificate to a two-year ASN degree to a BSN completion program and, coming in the fall, a MSN program.  
"These various pathways provide numerous options for women and men from diverse backgrounds and varied interests to access careers in an economically stable field," said Dr. Karen Morahan, who directs the RN-to-BSN program.  
The U.S. Bureau of Labor Statistics projects that the demand for registered nurses will grow by an eye-opening 19 percent by 2024, largely due to an increased emphasis on preventive care, growing rates of chronic conditions like diabetes and obesity, and demand for healthcare services from the baby-boom population as they live longer and more active lives.
The 2019 fall launch of an online Master of Science degree in Nursing is evidence of Mercyhurst's continued commitment to nursing education, from start to finish, Morahan said.
"Advanced education levels correlate with better patient outcomes, so our wish is provide every nurse the opportunity to continue their learning," she said.  "We want nurse leaders to grow from the bedside to the boardroom and are ready to make that happen."
 (FILE PHOTO)