Applause!
Monday, October 29, 2018
Heather Denning, MA, ATR-BC, ATCS, LSW, instructor of art therapy, and students Morgan Karcher, Kaitlyn Kirchmeir and Allison Brusk presented at the annual Buckeye Art Therapy Association symposium "Planting the Seeds of Art Therapy: Service Learning in Undergraduate Education" on Sept. 28. They're pictured below with art therapy graduate Erin McCall. Morgan Karcher (second photo) was awarded the Don Jones Memorial Student Scholarship at the conference.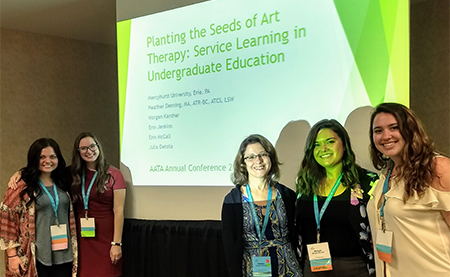 Alice Edwards, professor of Spanish, published her first literary translation, excerpts of María Flora Yáñez's Visiones de infanci, in the fall issue of Asymptote, the international journal of literary translation. Visiones de infancia, a memoir of the Chilean author's childhood, was originally published in Spanish in 1947 and this is its first English translation. The translation is accompanied by an audio in Spanish of the text, read by Soledad Traverso, Ph.D., Edwards' colleague in Spanish at Penn State Behrend.
Dr. Edwards also presented "Frida no está sola: Diez mujeres inolvidables" at the Pennsylvania State Modern Languages Association conference in Pittsburgh on Oct. 13. Language education majors Maria Villamarin, a senior, and Lucy Belleau, a junior, attended the conference along with recent language alums Cole Lowe '18and Alexandra Kleckner Caban '16, who now teach Spanish in Fairview and Millcreek.
The Mercyhurst North East Hospitality Culinary Club continued a decades-long tradition of selling chocolate-covered strawberries, grapes and pretzels during the September Wine Fest sponsored by the North East Area Chamber of Commerce. For the students, it provided experience in service learning, off-site catering dynamics, food production and costing, sales and marketing, and more. In addition, the proceeds help fund the students' Fine Dining Tour experiences at area restaurants. Pictured are, from left, Fawn Rolfe, Hannah Alleva, Rachel Bertolini, Brianna Vogel and Kainci Jo Pesta. Also taking part were Jasmine Baideme, Tim Limes, Emily Lander, Allyson Kraft, Dave Roman, Terrell Stonewell and Rochelle Glover. According to program director Beth Ann Sheldon, Hannah, Rachel and Jasmine worked all day all three days. She also thanked Chef Dennis Dunne and Chef Brenda Fernandes for their assistance.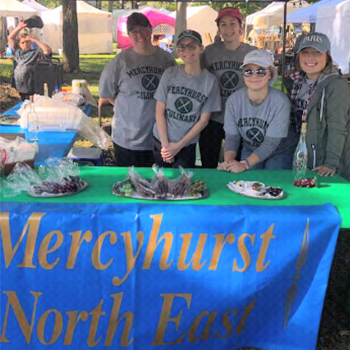 Anthropology/Archaeology senior Kay Mattena presented her research at the Midwest Archaeological Conference. The paper, which was co-authored by Anthropology/Archaeology professor Dr. Edward Jolie, James Skibo and Eric Drake, was titled "The Twined Textile from Gete Odena: Technological Analysis and Reshaping Using Solvent Vapors."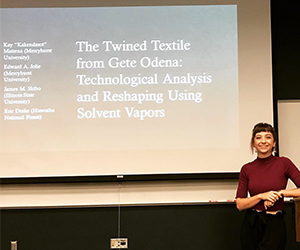 Members of the Mercyhurst Physician Assistant Student Society (MPASS), led by faculty advisor Robin Duke, volunteered their services for the Children's Health Fair held Oct. 12 at Sarah Reed Children's Center. The PA students provided education to about 50 children regarding the hazards of smoking and the importance of healthy food choices, in addition to performing a hands-on demonstration of emergency first aid utilizing Stop the Bleed models.
Mercyhurst Athletic Trainer Jeff Haft is applying what he learned working with the Pittsburgh Steelers at their training camp earlier this year with his athletes at Mercyhurst. Read Called up to the Pros in Training & Conditioning. 
Members of the Mercyhurst Physician Assistant Student Society (MPASS), advised by faculty member Robin Duke, raised more than $500 and collected five carloads of bedding, clothing, personal care items and basic first aid items this fall to benefit the Domestic Violence Service Center, Wilkes Barre, Pennsylvania. The Pennsylvania Society of Physician Assistants (PSPA) challenged student members to the fundraising drive in conjunction with its annual convention, held in the Poconos Oct. 17-20. The Mercyhurst PA students placed first in the amount of goods donated among all the PA schools represented at the conference.