Applause!
Monday, July 16, 2018
Amy Erickson, director of the Medical Lab Technology program at Mercyhurst North East, received an ASCP Foundation Laboratory Science Program Director Educational Grant for $2,500. The grant will fund laboratory improvements to enrich the program.
Tami Micsky, assistant professor of Applied Sociology and Social Work, has been awarded the Richard Cecil Todd and Clauda Pennock Todd Graduate Fellowship Award for the 2018-2019 academic year. The fellowship is awarded within the graduate school at Millersville University and recognizes and encourages excellence in scholarship, research and/or writing among graduate students. She is a doctoral candidate/ABD in the Doctor of Social Work program at Millersville. Micsky also conducted an interactive workshop titled "Utilizing the Community of Inquiry Framework to Inform Distance Education in Social Work" at the Social Work Distance Education (SWDE) Conference in April.
Baseball coach Joe Spano has been named the American Baseball Coaches Association/Diamond Atlantic Region Coach of the Year. His team went 36-15 during the 2018 season as Spano improved his record to 613-364-3 in 19 years as the Laker head coach. Read more.
The U.S. Department of Veterans Affairs has awarded four of its 19 Health Professional Scholarships to Mercyhurst University students in the Physician Assistant Studies graduate program: Bethany Kelley, Sarah Schroeder, Amanda Wolterink and Kristen Hamilton. In accepting the awards, each student agrees to complete at least one clinical rotation at a VA hospital and to work at a VA hospital for at least two years after graduation. Read more.
"Flying Bird Teapot" by Tom Hubert, professor of art and art department chair, won the second place award in the crafts category at the 51st Annual Art of the State Show in Harrisburg, Pennsylvania. Hubert is the only Erie County artist represented in the juried show, which includes 103 pieces chosen from 1850 entries submitted by Pennsylvania artists. The show continues through Sept. 9 at the State Museum of Pennsylvania.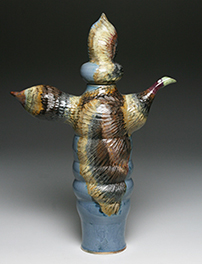 Women's ice hockey head coach Michael Sisti was inducted into the Metro Erie Chapter of the Pennsylvania Sports Hall of Fame on June 20 at the Shrine Club. He was one of 10 inductees for the 2018 class. Read more.
Averill Earls, assistant professor of history, organized a panel for the annual meeting of the World History Association, held June 21-23 in Milwaukee, Wisconsin. She said the panel on "Queer Themes & Experiences in World History" was well-received and produced exciting conversation on resources and approaches to incorporating LGBTQ concepts and people in World History surveys. In addition, her podcast, Dig: A History Podcast, was recently featured in the summer issue of the UB Alumni Magazine (page 20) and on the Buffalo Boss Babes blog.