Applause!
Monday, June 04, 2018
Milestones Autism Resources will present its Professional Excellence Award to Brad McGarry, M.A., director of the Autism Initiative at Mercyhurst (AIM), during the 2018 Milestones National Autism Conference. Their citation notes, "Brad serves as the Director of the Autism Initiative at Mercyhurst University (AIM), where he has adapted the lessons he's learned traveling with his son who has Angelman's Syndrome to bring life-changing experiences to individuals with autism through encounters with the outdoors – so far, his programs have taken groups to Mt. Kilimanjaro and the Grand Canyon, and they're currently planning more adventures to other international destinations." Recognition ceremonies will take place during the conference June 14-15 at the Cleveland I-X Center.
Web Coordinator Chris Norris, along with marketing staff members Sean Cuneo, Ben Friesen and Jeremy Hewitt, captured a bronze in the 39th annual Telly Awards competition. The Tellys honor excellence in video and television across all screens. The Mercyhurst team was honored in the Education category for the video "A Message from Our Mascot," in which Luke the Laker exchanges text messages with future students. View the prize-winning video.
Dr. Dennis Dirkmaat, chair of the Department of Applied Forensic Sciences, and Somerset County Coroner Wally Miller led off the summer-long Flight 93 Speakers Series with a presentation the weekend of May 19-20 at the Friends of Flight 93 National Memorial in Somerset County. The series will focus on first-person stories and accounts of the events and aftermath of the tragedies that took place on Sept. 11, 2001. Dirkmaat was chief scientific advisor at the scene during the recovery and identification of victims of United Flight 93. Read Flight 93 Speakers Series returns in The Tribune-Democrat.
Dr. Maria Garase and students from her Advanced Criminology course visited SCI Albion for a face-to-face discussion with inmates who are part of the SCI Albion Think Tank on Restorative Justice. The two groups also "met" via teleconference earlier in the semester as part of a series of discussions on criminological theory and crime policies. Dr. Garase said both students and inmates learned a lot about the real-world application of theory, but at the same time learned to humanize how and why crime occurs. They also discussed how policies, both good and bad, are derived from theory. The Department of Corrections highlighted the innovative class project in their newsletter and on their social media pages. Students participating included Claudia Cauchi, Taylor Fry, Allessandra Gaiotti, Jordan Kwisnek, Melissa Lopez, Jaydon MacNeil, Amanda Pierre-Louis, Nicole Rodgers, Jennae Shinsky, Oliver Simpson and Kelly Stevens.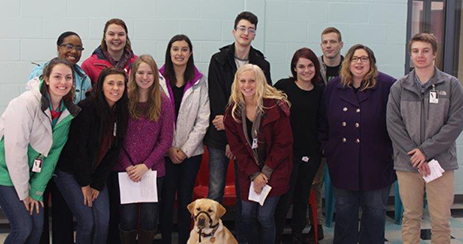 Dr. Greg Baker, vice president for mission integration, was among a small number of Fordham University 2018 graduates highlighted in printed and electronic news features circulated during commencement festivities. Baker, who earned a doctorate in ministry from Fordham's Graduate School of Religion and Religious Education, completed his dissertation on "Men For and With Others: Engaging the Stories of College Men and Exploring Pastoral Postures." He examined some of the challenges of reaching college-aged men of diverse backgrounds and experiences. Read "In Campus Ministry, Reaching Disaffiliated Young Men."
Dr. Maria Garase, associate professor of criminal justice, and Brenda Atkin, Prison Rape Elimination Act (PREA) Administrator at SCI-Albion, delivered a presentation at the Crime Victim Center of Erie County's annual conference. "Unpacking the Prison Rape Elimination Act (PREA): Identification, Investigation, and Resource Allocation to Vulnerable Inmate Populations" reviewed PREA legislation and its implementation by the Pennsylvania Department of Corrections, the scope of behaviors (e.g., sexual harassment, sexual assault, rape) covered under the act, the internal and external investigatory processing of PREA allegations, and the outcomes and resources available for victims and offenders of PREA. The presenters stressed the vulnerability and hidden victimization that occurs behind bars and that there are resources in place to help victims.
Daryl Georger, chair of the Statler Department of Hospitality Management, was part of an accreditation team assigned to conduct an external review of the Department of Hospitality and Tourism Management at the University of Massachusetts. Georger's review was conducted for the Accreditation Commission for Programs in Hospitality Administration.