Applause!
Monday, May 07, 2018
Four Mercyhurst Sport Business students took first place in the undergraduate Case Study Competition April 19-20 at the annual Pennsylvania Sport Business Conference at Indiana University of Pennsylvania. Senior Brian Lipps, junior Jonah Jobin, and sophomores Summer Dutton and Larry Staub topped Kutztown University in the finals of the competition, which challenged students to create a marketing and communication plan for the Reading Royals. Advisor Dr. John Parente is pictured with (from left) Jobin, Dutton, Lipps and Staub. Also during the conference Mercyhurst student Emilee Norris (below right) received the statewide Community Service Award. A member of the women's basketball team, she has been involved with service at the Erie Boys and Girls Club, Toys for Tots, VA Medical Center, food bank and more..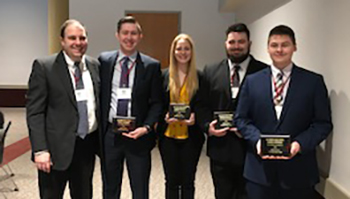 Tom Hubert, professor of art, currently has five pieces exhibited at the Pittsburgh Center for the Arts and two teapots on display in the 12th Annual Invitational Teapot Exhibition at the Morgan Contemporary Glass Gallery, also in Pittsburgh. The PCA exhibition was part of the numerous exhibitions in Pittsburgh during the National Council on Education in Ceramic Arts Annual Conference in March. This is the ninth year in a row that Tom has been invited to show at the nationally recognized show at Morgan Glass Gallery. Another Hubert piece, "Flying Bird Teapot," has been accepted for the "Art of the State: Pennsylvania 2018" exhibition at the State Museum of Pennsylvania, June 24-Sept. 9. There were 104 works chosen for the exhibition from nearly 1,800 entries.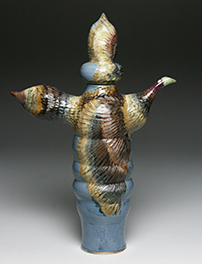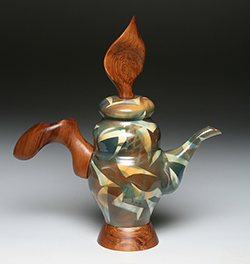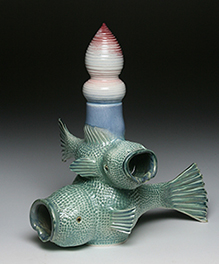 Dr. Maria Garase in April helped coordinate small-group facilitators for a national pilot program for Strengthening Police and Community Partnerships. She worked with Michael Outlaw, a graduate of the master's program in administration of justice who now serves as community liaison with the Erie's Mayor's Office, to prepare for the first SPCP session, which was held at Mercyhurst. Criminal justice majors Allessandra Gaiotti, Amanda Pierre-Louis, Jenny Sabilov, Nicole Rodgers, Dominique Stovall, Zenia Zelaya and Mercyhurst colleagues Dr. Alice Edwards, Dr. Maria Garase, Colin Hurley, Dr. Janelle Newman and Jennifer Woodard were selected to assist as facilitators. They received Department of Justice training in small-group facilitation and then facilitated both homogenous and heterogeneous break-out sessions to discuss police-community relations in Erie. The groups included Erie police officers, refugee groups, nonprofits, minority communities, religious leaders, business leaders, victims of violence, educators, and neighborhood associations. Dr. Garase said the facilitators found the event enlightening as well as educational, and all volunteered to participate in the next event.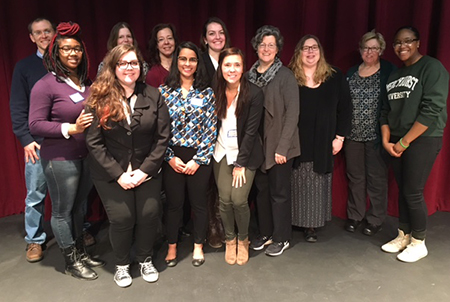 Dr. John Olszowski, chair of the Thomas B. Hagen History Department, is quoted in an Erie Reader article titled "The Human Experience. Why local history matters."
Diana Messer, a post-doctoral faculty member in the Department of Applied Forensic Sciences, below left, and second-year graduate student Paige Lynch, below right, presented research posters at the American Association of Physical Anthropologists meeting in Austin, Texas.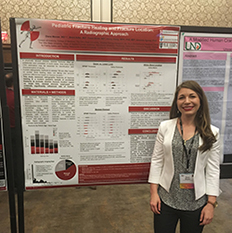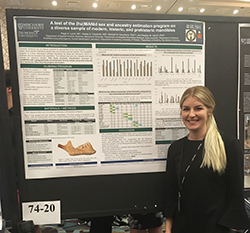 Dr. Mary Hembrow Snyder learned recently that Joan Chittister: Essential Writings, the book that she and Mary Lou Kownacki, OSB, edited, has sold more than 10,000 copies. It was published by Orbis Books in 2014.
Gary Cardot, assistant professor of art, took 50 art history and photography students to the Cleveland Museum of Art on April 20 for an all-day immersion in its collections, including special exhibits on Rodin, German Expressionism and 18th-century paintings of Venice. The trip was funded through the Rev. Sylvester Jaworski Fund, established by Audrey Hirt in memory of the Divine Word missionary who was an avid photographer.

Kimberly Zacherl, assistant professor of business, attended the Society for Human Resource Management Conference in Cleveland, Ohio, on March 23. She attended sessions including "Making employees better," "Re-thinking change: Making change stick," "Laying the foundation for effective performance conversations," and "Employee attraction and retention." Keynote speaker Jenn Lim, a globally renowned expert on prioritizing happiness at work, discussed how Zappos grew to a $1 billion-a-year sensation.