Applause!
Tuesday, April 10, 2018
Dr. Karen Morahan, assistant professor of nursing, has been named to fill a vacancy on the board of the Millcreek Township School District. She was chosen from among three finalists and took the oath of office on March 19.
Janice Haas, director of the physical therapy assistant program and assistant professor of physical therapy, has been selected to receive the F.A. Davis Award for Outstanding PTA Educator from the American Physical Therapy Association (APTA). This award recognizes PTA educators who have demonstrated and exhibited a noteworthy level of commitment to PT education and PTA students, and to advancing, promoting, and upholding standards of academic excellence. Colleagues Tricia Mahoney and JoAnne Whaling nominated Haas for the honor, noting "Jan takes every possible opportunity to promote PTA education and physical therapist assistants. She is an advocate for her students and graduates, and she goes above and beyond to provide support and guidance to them." The award will be presented at the APTA conference in June.
Three Mercyhurst English majors delivered papers at the International Sigma Tau Delta (English Honor Society) Conference in Cincinnati during the weekend of March 23. Sophomore Kristian Biega's essay, "Returning Cultural Power to the Middle East," explored Joe Sacco's nonfiction graphic novel Palestine through the lens of Edward Said's seminal theoretical work Orientalism. Senior Kimberly Kuehl was involved on two panels. Her "Fathers, Sons, and the Infinite Arabesque" examined themes of cultural identity and empowerment in Khaled Hosseini's The Kite Runner. Kuehl also chaired a creative writing session on original student poetry. Senior Audra Alexander presented "Reading Reform in Dickens' Bleak House." This essay on Dickens and Burkean moral imagination received a juried award from Sigma Tau Delta for excellence in theoretical writing. Pictured, from left, Kristian Biega, Audra Alexander, Kim Kuehl and Dr. Brian Reed, professor of English.
Natalia Krivosheeva, Fulbright Teaching Assistant in Russian, attended the Committee on Teaching About the United Nations conference on "Stepping Up to Protect the World's Children" at the United Nations in New York City on April 6.
Faculty and their research students within the Zurn College of Natural and Health Sciences attended the Pennsylvania Academy of Science Meeting at Indiana University of Pennsylvania March 23-25. Nine undergraduate students presented their research on a variety of topics:
"A regional perspective on lake cyanobacteria blooms in the PA-NY Lake Erie region during summer 2017." (Angelea Belfiore, Biology);
"FISHing for amplicons: mapping hypothetical amplified loci to the giant polytene chromosomes of Sciara coprophila by fluorescent in situ hybridization." (Lan-Nhi Phung, Biology);
"Electrochemical analysis of natural antioxidants in different types of tea." (Aleique Allen, Biochemistry);
"6XHis-Taq DNA polymerase-TEV-green fluorescent protein fusion protein overexpression and purification." (Deanna Callerame, Biochemistry);
"Mapping putative amplicons onto larval salivary gland polytene chromosomes of Sciara coprophila using fluorescence in situ hybridization." (Rachel LeMarble, Biology);
"Cervical spine movement during American football equipment removal: supine versus torso tilt, spine board versus turf." (Drake Burgess, Sports Medicine);
"Postural performance, neurocognition, and self-reported concussion: a prospective longitudinal study of incoming Division II collegiate freshmen football players." (Shannon Farbacher and Callie Paddock, Sports Medicine);
"Inferences on tyrannosaurid social behavior based on enigmatic maxillary depressions and distribution of neurovascular foramina" (Michael Deak, Geology).
Research mentors included faculty from the Departments of Biology (Michael Foulk and J. Michael Campbell), Geology (Scott McKenzie), Sports Medicine (Robert Chetlin and Bradley Jacobson), and Chemistry and Biochemistry (Clint Jones and Amy Parente, who presented her collaborative work with M. Garcia-Rubio on "Creation of a wireless sensor network to gather real-time temperature, pH, and conductivity data from remote locations.")
Dr. Parente assumed the role of president of the Academy at the meeting and is looking forward to this role over the next two years. She said during her "Vision to 2020" remarks that she will focus her efforts on supporting undergraduate student research and increasing the membership of the Academy. She encourages faculty within the Zurn College (and their students) to consider attending the Annual Meeting next year at Cedar Crest College in Allentown, Pennsylvania, March 29-31, 2019. A call for proposals to support student research will be coming in Fall 2018. Please encourage your students to apply for funding to support their research!
Darci Jones, director of university libraries, was recently appointed to the Middle States Commission on Higher Education as a Peer Evaluator, and returned from training in Philadelphia in March.She  She will join other peer evaluators in the region focused on educational excellence across a diverse institutional membership.
Greg Baker, director of campus ministry, was invited to be a panelist and speaker for the community forum "A Salute to the Drum Major: Commemorating the Life & Legacy of Dr. Martin Luther King, Jr." on April 4 at the Erie County Blasco Library. This event was held in order to commemorate—to the minute—50 years since the assassination of Dr. King. The event was sponsored by Inter-Church Ministries of Erie County and Helping You … Helping Me.
Alice Edwards, professor of Spanish, will present a paper on "Impossible Motherhood: Testimony of an Abortion Addict" by Irene Vilar at the Northeastern Modern Language Association meeting in Pittsburgh April 14.
On March 10, Drs Ben Scharff and Averill Earls led four students to the regional Phi Alpha Theta (History Honors Society) conference at Grove City College. Jess Page, Troy MacMullan, Molly Kennedy and Ethan Wagner all presented research they've done in history courses at Mercyhurst. Troy MacMullan earned the "Best Paper" award for his panel for his paper titled "Woodstock as the Unintentional Symbol of the Counterculture Movement." He's pictured below with Robert Clemm, associate professor of history at Grove City College. The second photo includes, from left, Molly Kennedy, Ethan Wagner, Troy MacMullan, Averill Earls and Ben Scharff.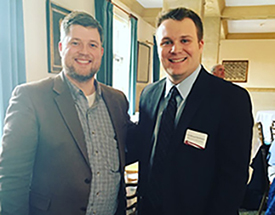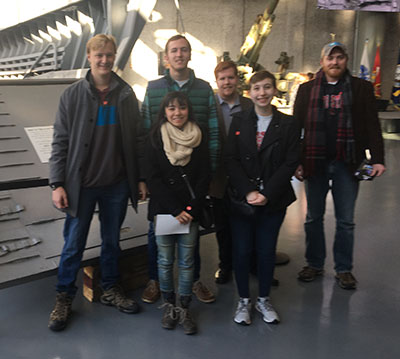 Brian Sheridan, chair of the communication department, is quoted in an article from the University of Wisconsin Oshkosh: Blog, online resources lift demand for UWO professor's journalism book.
Sophia Thorman, a dance and pre-health science student, presented her senior research project at the Spring Meeting of the Western Pennsylvania Section of the American Association of Physics Teachers hosted at Penn State-Greater Allegheny. The research project "Physics in Life Science: An Interdisciplinary Research Study," mentored by Dr. Simona Carrubba, assistant professor of physics, analyzes electroencephalograms (EEGs) recorded from ballet dancers to investigate changes induced in brain electrical activity during learning novel motor sequences.


Dr. Phillip J. Belfiore, professor of education, published a paper on "The Critical Role of Catholic Higher Education in Sustaining Catholic Elementary Schools" in The Journal of Catholic Higher Education. The manuscript examines the ongoing 12-year partnership between Mercyhurst University and Saint Gregory Parish School of the Erie Catholic Diocese. The partnership was predicated on moving from a traditional pre-K-8 instructional format to a multi-age instructional format, resulting in reconfigured teaching staff and salary savings for the parish school. The partnership between St. Gregory Parish School and Mercyhurst University began in the spring of 2004, with implementation in the fall of 2004. The three goals of the partnership were to (a) establish and maintain academic excellence rooted in Gospel values and (b) maintain a pedagogically sound level of instructional practice (e.g., evidence-based practices), while (c) reducing the dependency on increased enrollment, tuition, and parish subsidy with the support of graduate teachers enrolled in the graduate special education program at Mercyhurst. Access the current issue.