Applause!
Wednesday, February 28, 2018
Senior Spanish Education major Cole Lowe has been named a semifinalist by the Fulbright National Screening Committee. Semifinalists go through a further round of reviews before the Committee announces the scholarship recipients later this semester. If offered a scholarship, Cole will travel to Argentina to teach English and to experience the country's culture and language. Dr. Marnie Sullivan is the Fulbright faculty advisor.
Mercyhurst's student newspaper, The Merciad, scored a first-place win in the column category and took second place in layout and design in the 2018 Keystone Press Student Awards. Student writer Marina Boyle took first place for her columns on "Roommates make or break the year," "New water bottle stations bring joy," and "Educational SAC/MAC events a must." The Merciad staff earned second place for its layout and design presentation of the university's student production of Guys and Dolls. Kristin Bowers advises the Merciad staff. Read more.
Five history majors attended and presented papers at the Phi Alpha Theta National History Conference. Pictured, from left: Alexander Feasly, Rosie Pregler, Andrew Gebauer, Adam Craddock Kathryn Schmitt, and Dr. Benjamin Scharff, assistant professor of history.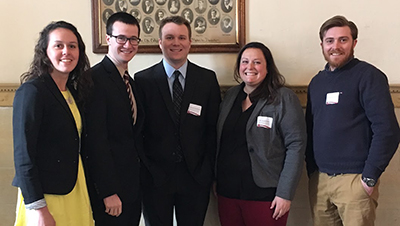 Averill Earls, Ph.D. assistant professor of history, published a piece on sexology for the collaborative history blog Nursing Clio. Read Explicit: Censorship, Sexology, and Sexuality in Independent Ireland.
Walker College of Business Professors Lee Belovarac, Kim Zacherl and Dr. Adrienne Foos (pictured below) accompanied marketing majors to the American Marketing Association's Regional Conference in Pittsburgh on Feb. 10. The event, offered through the University of Pittsburgh's Student Chapter, allowed students to network with local, regional and national marketing representatives from Target, Dick's Sporting Goods, ADP, Northwestern  Mutual and many others.