Applause!
Monday, April 15, 2019
Seven Mercyhurst Russian Studies students competed in the Olympiada of Spoken Russian of Western Pennsylvania, hosted by the University of Pittsburgh April 6-7. Sophomore Allison Dalton and freshman Jack Kregness earned commendation for the first-year level, and freshman Siena Peralta earned commendation for the second-year level. Also taking part were first-year Russian students Noelle Zesky, Michelle Ciamacco and Zach Nichols, and second-year student Annabel Klatil. Kathryn Duda, Ph.D., assistant professor of Russian Studies, accompanied them. 
Hownikan, a publication of the Potawatomi Nation, featured the senior project of Mercyhurst student and Tribal member Kay (Kakendasot) Mattena in its April issue. She worked in Mercyhurst's perishables lab to rehydrate a textile piece from the Great Lakes area. Read the article here (on page 15). 
A team of undergraduate students from the Department of Public Health took home first place in the case study competition at the 2019 Public Health Scholar Bowl at Saint Louis University on April 6. Public Health Department Chair Dr. M Beatriz Torres led the Mercyhurst team, which included Karrah Savage, Joshua Froess, Matt Dempsey, Hannah Buncher, Nina Hollopeter and Jacqueline Rogers. The case study involved examination of food deserts in Erie. Read more.
Nine undergraduate students within the Zurn College of Natural and Health Sciences presented their research at the 95th annual meeting of the Pennsylvania Academy of Science at Cedar Crest College in Allentown, Pennsylvania, March 29-31. Topics included:
"Analysis of possible causes of winter fish kills in Lake Erie waters adjacent to a coke manufacturing operation." (Emma Mader, Biology)
"Synthesis of isoxazolines to inhibit the quorum sensing pathway in Vibrio fischeri." (Joshua Froess, Biochemistry)
"Using Quantum Mechanics and Molecular Mechanics (QM/MM) to model the effects of kinase domain mutations on the binding of HER2 kinase inhibitors." (Nicholas Rugelis, Biochemistry)
"Recent developments towards generating imine nucleophiles." (Rachel Guest, Chemistry)
"Effect of recreational trail development on salamander communities of riparian forest habitats near Lake Erie in Pennsylvania." (Sean Herman, Biology)
"Using fluorescent in situ hybridization (FISH) to map amplicons in the larval salivary gland polytene chromosomes of the fungus fly, Sciara coprophila." (Ibukunoluwa Olaoye, Biology)
"Puff FISHing: Mapping Sciara coprophila salivary gland polytene chromosome amplicons using fluorescence in situ hybridization (FISH)." (Hannah Wallace, Biology)
"A combined quantum mechanics/molecular mechanics approach to calculating protein-ligand interactions." (Nathaniel Gasparovic, Chemistry)
"Investigating contamination effects from a coke manufacturing operation using seed germination tests and Gammarus (Amphipoda) toxicity bioassays." (Mark Shafer, Biology).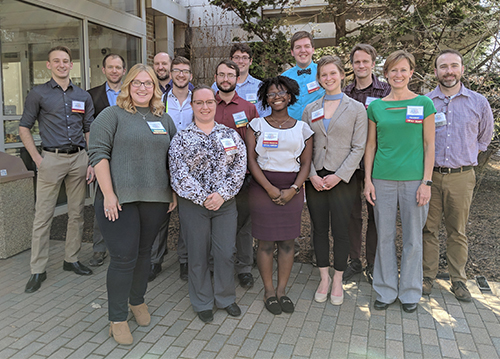 Research mentors included faculty from the Departments of Biology (Michael Foulk, Christopher Dolanc, J. Michael Campbell) and Chemistry and Biochemistry (Ronald Brown, Amy Parente, Christopher Taylor). Drs. Foulk and Dolanc organized the meeting's undergraduate student presentation awards program, which presented $1,000 in awards for outstanding student oral and poster presentations. Dr. Amy Parente began her second year as president of the Academy and has spearheaded many positive changes to better live out its mission to be "Pennsylvania's vital and valuable resource for science professionals, faculty, and students." At this year's meeting, the Academy also unveiled its new logo, which was a partnership Dr. Parente initiated with Mercyhurst's ART 322 (Corporate Identity and Branding) students. She is looking forward to the second year of her term as president and highlighted during her opening remarks that she will continue to focus her efforts on supporting undergraduate student research. 
The Academy, a member of the National Association of Academies of Science, encourages faculty and students within the Zurn College to consider attending the next Annual Meeting at York College March 20-22, 2020. A call for proposals to support student research will be coming in Fall 2019 – please encourage your students to apply for funding to support their research and attend the annual meeting in Spring 2020 to share their results! 
Dr. Amy Parente attended the American Society of Biochemistry and Molecular Biology (ASBMB) national conference in Orlando, Florida, April 6-9 to co-present a poster highlighting results from progress on a three-year NSF-funded project to enhance research experiences for college students. The poster was titled "Developing resources to support CURE projects investigating protein-protein interactions, post translational modifications and gene regulation for the MDH CURE Community (MCC)" and was presented with grant collaborators Dr. Husinga (Malone University), Dr. Peterson (Suffolk University) and Dr. Provost (University of San Diego).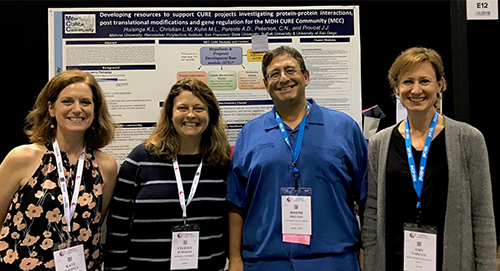 When Hunter Reiff was 3 and riding ponies in her tutu and tiara never did she imagine that one day she'd be heading to nationals as a member of the Mercyhurst University Equestrian Team. The Warren native is the first member of the team to qualify for the National Competition of the Intercollegiate Horse Show Association (IHSA) in what has been a memorable year for the entire group. Reiff will compete in the Walk-Trot-Canter Equitation when the championships are held May 2-5 at the New York State Fairgrounds Expo Center in Syracuse. Read more.
Dr. Verna Ehret, associate professor of Religious Studies, and three students attended the 2019 Eastern International Meeting of the American Academy of Religion in Montreal. The students presented papers on April 13 based on research they undertook in their Religious Studies classes. Seniors Christian Copper, Vincent Marrazzo and Katelin Snable presented in a session titled "Harm and Healing in the Evolution of Religion."