Applause!
Monday, June 17, 2019
Greg Baker, Michele Wheaton and Patricia Sullivan attended the 2019 Carlow Roundtable, which took place May 26-31 in Dublin, Ireland, and in the historic monastic city of Glendalough. During this conference/pilgrimage, they learned about the work of Mercy International and shared in reflections and discussions on the ongoing work of Mercy Higher Education. The event theme was "175 Years of Mercy – The Heritage We Have Received; the Heritage We Pass On – How does your work serve as the conduit for our Mercy heritage as it passes from the past to the future?" In keeping with the theme, Greg Baker presented a paper titled "The Mercy Emissary Program: Inviting Lay Employees to Evolve the Founding Charism."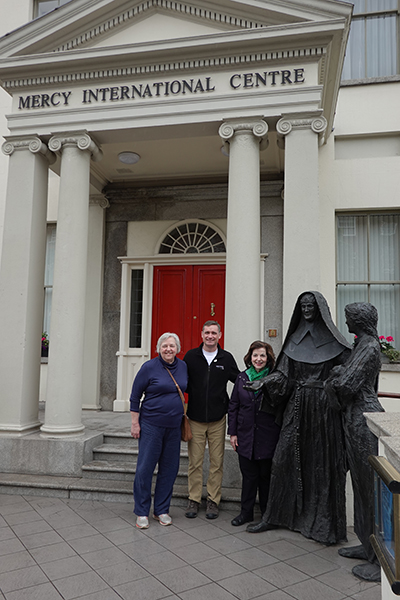 Lt. Paul Joslin of the Department of Police & Safety was honored by the Northwestern Pennsylvania Chiefs of Police Association at its May 22 meeting in Titusville. He received the group's Life Saving Award in recognition of his actions responding to medical emergencies on campus in November 2016 and November 2018. He provided initial medical care and performed rescue breaths in both instances to help revive victims prior to transport to the hospital for treatment. Lt. Joslin has been with the Mercyhurst Police Department for 14 years and had prior military, municipal police and fire department experience. He's shown accepting his medal from Larry Dombrowski, president of the chiefs' association and a 1991 Mercyhurst graduate.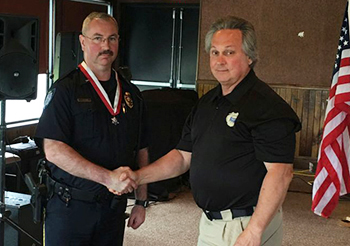 Ryan Riemedio, assistant head coach for Mercyhurst football, was chosen by the Pennsylvania State Athletic Conference to attend the 2019 MOAA/NCAA Division II Governance Academy on June 8 at the World Center Marriott Resort in Orlando, Florida. This professional development opportunity is afforded to only 21 participants from Division II colleges and universities across the country. Those selected also participated in the MOAA Symposium on June 9 and the National Association of Collegiate Directors of Athletics Convention June 10-12. MOAA (Minority Opportunities Athletic Association) promotes equitable employment opportunities for minorities in the athletics industry. As part of his participation, Riemedio learned about the NCAA Division II governance structure. Riemedio enters his eighth year on the Mercyhurst football staff, last season his first as assistant head coach. He continues his work with the defensive line, special teams, and strength & conditioning while also serving as the program's Community Engagement Coordinator. Earlier this summer, he spoke to coaches at the Cleveland Browns-sponsored Northeast Ohio Youth Football Summit at FirstEnergy Stadium.

Six students in the Statler Department of Hospitality Management have earned scholarships from the American Hotel & Lodging Educational Foundation (AHLEF). The students include Monica Tinsley, who received two AHLEF awards: $3,750 from the Opening Doors to Opportunity Fund, and $600 from the American Lodging Investment Summit Fund. The latter fund also provided scholarships to Katelyn Reddinger and Sabrina Mihaila, both in the amount of $675; and to Collin Davis, Noah Dziak and Jessica Perry for $600 each. Read more.

Dr. Maria Garase, associate professor of criminal justice, presented a paper at the Northeastern Association of Criminal Justice Sciences (NEACJS) annual conference in Williamsport, Pennsylvania. Her paper, titled "Educating Inmates: The Role of Higher Education in the Correctional Arena," reviewed changes in national policies regarding inmate access to higher education, the Second Chance Pell Grant Pilot program, and future directions of post-secondary education in today's prisons. Dr. Adam Saeler, assistant professor of criminal justice, delivered a paper titled "Lessons Learned from the Frontlines of a Byrne Criminal Justice Initiative Grant." Dr. Pete Benekos, professor emeritus of criminal justice, co-presented a workshop titled "Mentoring and Networking: Developing and Improving Your Academic Career."