Applause!
Tuesday, April 02, 2019
Tami Micsky, assistant professor/field director in the Department of Applied Sociology and Social Work, successfully defended her dissertation to earn the Doctor of Social Work degree through Millersville University on March 29. She's pictured below, right, with her committee members Dr. Joyous Bethel, Dr. Curtis Proctor and Dr. Leonora Foels (committee chair), all faculty at Millersville. Earlier in March, Micsky presented her work on "The Community of Inquiry Framework and Social Work Distance Education" at the 36th Annual Conference of the Association of Baccalaureate Social Work Program Directors, held March 13-17 in Jacksonville, Florida. This research explored the concepts of the Community of Inquiry (CoI) framework, its presence in the literature, and the framework's applicability to distance formats in social work education. Results of the study indicate that both students and instructors perceive the essential elements of the CoI (social presence, cognitive presence, and teaching presence) in distance education format social work courses.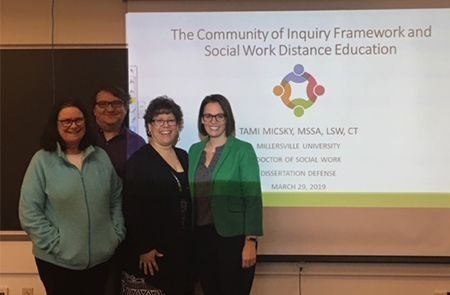 James A. Snyder, Ph.D., associate professor and chair of the Department of Philosophy, has been selected to participate in the Council of Independent Colleges/Harvard Center for Hellenistic Studies summer seminar. Just 20 faculty members were selected from a large group of nominations for the seminar on "The Ancient Greek Hero," led by Professors Gregory Nagy and Kenneth Scott Morrell, July 25-29, 2019.
Greg Cross, a senior history major, and Taylor Moore-Hutton, a senior history and intelligence studies major, presented their senior seminar research at the annual Milton Plesur Graduate Studies Conference. Dr. Averill Earls, who chaired a panel at the same conference, reports that audiences were surprised to learn that both were undergraduates.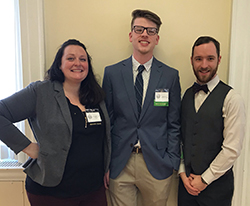 Dr. Averill Earls presented her research at the annual meeting of the American Conference for Irish Studies, held March 21-24 in Boston, Massachusetts. Her presentation, "Unnatural Offences of English Import: The Politicized Association of Englishness and Homosexuality in Irish Nationalist Presses," is based on an article that she had accepted at the Journal of the History of Sexuality, the leading journal in the field of sex and gender history studies. The article is scheduled to be published later this year.
Aurora WDC, the global research, technology and learning community, has awarded its coveted Jim Mathews Undergraduate Award and Fellowship for Intelligence Excellence to sophomore Marina R. Boyle. Boyle, a native of Dublin, Ireland, is a Business and Competitive Intelligence major. Read more.
Kimberly Zacherl, assistant professor of business, attended the Women in Leadership Conference in Pittsburgh with four students. The conference was sponsored by the National Diversity Council. Zacherl and students (pictured below, from left) Anna Dinella, Madison Saraceno, Molly DiVincenz, and Chloe Tyillian attended sessions including "Building up Women" "Defining Success," "Silencing Self Doubt," "Gaining Mentors" and "Allies in the Workplace."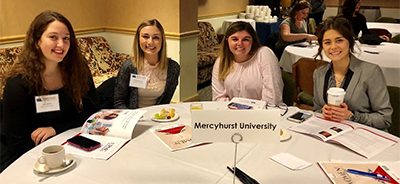 Anthony Prusak, a 1990 Hospitality Management graduate who's now vice president of business development for ABTS Convention Services, and Peter Zohos '97, assistant professor of hospitality management, have organized a webinar for Mercyhurst students on April 11. They have invited meeting professionals from the American Heart Association San Antonio Breast Cancer Symposium and Emergency Nurses Association to address students in Zohos' class in convention and trade show operations.
Students at Mercyhurst North East have organized several special service projects recently. The Student Government Association sold T-shirts and Valentine grams during February and donated $122 to Project Love, a local nonprofit that helps provide Christmas gifts to children in need in North East Borough and Township. SGA/SAC also staged a Puppy Bowl Trivia on March 23, National Puppy Day. The MNE community donated 115 pet care items and more than $100 to the Erie Humane Society. During the event, student could interact with puppies and dogs from the Humane Society.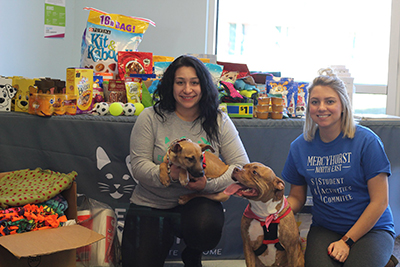 Seven Music Education students will travel to Pittsburgh this weekend with Athletic Band Director Robert Reid to attend the PMEA/NAfME All-East Music Convention, recognized as one of the largest events for music educators. The students will participate in clinic sessions in their major areas of musical study, attend performances of world-renowned musical groups, interact with college students from all over the eastern U.S., and recruit for Mercyhurst University by working in our trade show booth. The students attending are Emily Zbrzezny, Lauren Tucci, Rachel Kinlan, Sean Carmichael, Ethan Wicker, Morgan Dowches and Greta Stoner.