Applause!
Thursday February 28, 2019
Tom Forsthoefel, professor of religious studies, had his essay "Loving the Ineffable: Epistemic Humility and Interfaith Solidarity" published in the Journal of Dharma Studies. The article was first published online to be followed by the print edition. He also had two essays published last summer, "The Guru and the Zaddik and the Testimony of the Holy Ones" in Dharma and Halacha: Comparative Studies in Hindu-Jewish Philosophy of Religion (Lexington Books), Ithamar Theodor and Yudit Greenberg, eds.; and "The Advaita Vedanta of Shankara" in History of Indian Philosophy, ed. Purushottama Bilimoria with Amy Rayner, part of the Routledge History of World Philosophies. Dr. Forsthoefel has also recently served as peer reviewer for the journals Religion and Literature and Journal of Dharma Studies.
Lauren Packer Webster, associate director of athletics, has been selected to a national committee within the NCAA, representing Mercyhurst as a grant selection committee member for the NCAA Strategic Matching Alliance Grant, which is designed to help institutions enhance ethnic minority and gender representation in senior-level positions through funding of new or enhanced positions. She will serve from Sept. 1, 2019, through Aug. 31, 2023.
Tom Hubert, professor of art and chair of the art department, had his ceramic piece "Red White and Blue Fish Teapot" selected for the 2019 Hoyt Regional Art Exhibition. Juror Kurt Show selected 75 works from the 447 submitted. The exhibit will be on display April 2-May 30 at the Hoyt Museum, 124 East Leasure Ave, New Castle, Pennsylvania.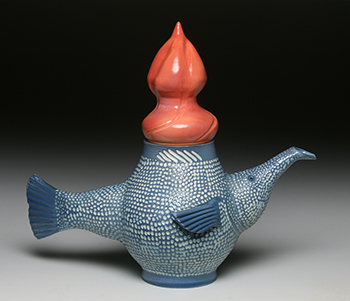 Dr. Drew Danzell, associate professor and chair of Department of Intelligence Studies, had his most recent research article, "Aid, Intervention, and Terror: The Impact of Foreign Aid and Foreign Military Intervention on Terror Events and Severity," published in the ranked peer-reviewed journal Social Science Quarterly, earlier this month. Read it here. Dr. Danzell also joined the prestigious journal of International Interactions editorial board at the beginning of the year.
 
Mercyhurst's Upsilon chapter of Alpha Phi Sigma (APS), the National Criminal Justice Honor Society, was recently awarded a $250 National Advocacy Grant. This grant is given to local chapters that engage with organizations in their community that provides service to adults or juveniles within the criminal justice system. Over the past two years, the chapter has established a solid working relationship with Climate Changers, Inc., a local nonprofit agency that provides support services for citizens following release from incarceration. APS members most recently attended an interactive, on-campus panel presentation with re-entrants from the agency. APS spearheaded a campus-wide winter clothing and pantry item drive for the re-entrants, working with the Criminal Justice Association and the Student Alliance for Prison Reform. When they delivered the collected items, students were given a tour of the residential treatment area, the professional clothing/suiting services program available to participants, and the case management offices. Photo: APS members Amelia Kanonczyk, Taylor Tharp, Abigail Saunders, Mary Heyden, Alexis Jones, Shane Doughtery and Gabrielle Kendell and advisor Dr. Maria Garase present the Advocacy Grant check to administrators and members of Climate Changers Inc. on Feb. 21.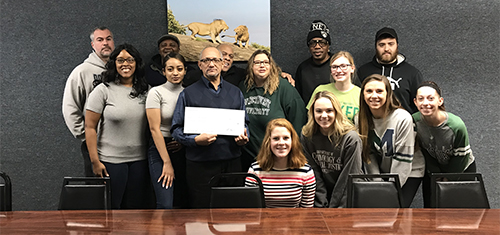 Dr. Musa Tuzuner, assistant professor of intelligence studies, attended an event sponsored by ACAMS Pittsburgh on Feb. 21. ACAMS (Association of Certified Anti-Money Laundering Specialists) is the largest international membership organization dedicated to enhancing the knowledge, skills and expertise of AML/CTF and financial crime detection and prevention professionals.
 
ShiAnn Conners, an education major and Spanish minor, has received the Helen Clark Page Scholarship from the Erie County Pennsylvania Association of School Retirees (PASR). The award supports Erie county residents studying for a career in education. The Erie County PASR scholarship was established in 2000 and later, in 2007, named to honor Helen Page, who had been an active chapter leader. The scholarship is supported by donations from PASR members, and members can recommend a recipient. ShiAnn was nominated for the scholarship by Mercyhurst College graduate and Spanish adjunct instructor Phyllis Rzodkiewicz.