Applause!
Tuesday February 05, 2019
Alice Edwards, professor of Spanish, had a translation, "Her name was Ines," published in the fall edition of the Nashville Review, a publication of Vanderbilt University. Interested readers can access it at https://as.vanderbilt.edu/nashvillereview/.
Christopher Corpora, Ph.D., professor of practice in intelligence studies, took part in a NATO Defense College Foundation workshop on "Afghanistan and Central Asia: Looming Priorities and Regional Un-Balances" in October 2018. Read his comments starting on page 43 of the conference report.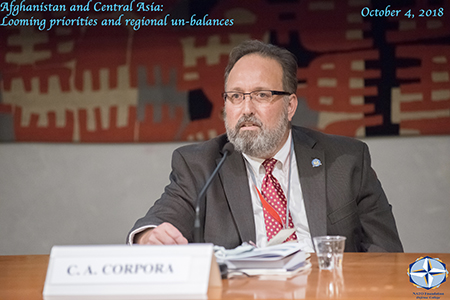 Amy Erickson, director of the MNE Medical Laboratory Technician program, had her BOC Credential Story selected as a winner by the ASCP Board of Certification. Erickson entered: "To raise awareness of the board test, possibilities of pathways for careers, and especially to raise awareness of the field itself." Her essay will be published by the ASCP in their magazine later this year to encourage people to choose a career of medical laboratory technician and also to take their boards to further their career opportunities.
Communication Department adjunct instructor and Mercyhurst graduate Jay Puskar has been named Sports Director for WJET/WFXP-TV in Erie. Puskar teaches the Sports Communication course which will be offered again in Spring 2020.
Alice Edwards, professor of Spanish, traveled to New York City on Dec. 14-16 for the Fulbright selection committee meeting for English Teaching Assistant applicants for Colombia. This is her second year of a three-year appointment to the selection committee.
Students in the COM110-Oral Communications class at Mercyhurst North East put their presentation and persuasive skills to the test by trying to convince a panel of judges why their charity was the most worthy. Caitlin Newcomer's presentation earned $100 from the MNE Student Government Association for her charity, the Community Blood Bank. Read more.
Dr. Pete Yaksick, assistant professor of criminology and psychology at Mercyhurst North East, co-published a cognitive science article as a member of a five-person Ivy League research team based at Columbia University. The article is titled "How does discourse among like-minded individuals affect their thinking about a complex issue?" It was published Dec. 30 in the peer-reviewed scholarly British journal Thinking And Reasoning, volume 24 number 4, 2018. The primary research aim investigates the effect of dyadic-dialogic interaction on reasoning, meta-cognition, attitudinal polarization and confirmation bias. The death penalty is used as the divergent discussion point. Like-minded and opposite-minded subjects were utilized for the research design, which included pre- and post-essays along with extensive coding mechanisms. Dr. Yaksick holds advanced psychology degrees from both Columbia and Johns Hopkins University, and has been accepted to the University of Pennsylvania (Penn) to study Mental Health Counseling. Pete has dedicated this research to the memory of David A. Galiyas Jr., who passed away suddenly on Jan. 10 at 29.
Dr. Frank E. Hagan, professor emeritus of the Criminology and Criminal Justice Department, published the 10thedition of Introduction to Criminology: Theories, Methods, and Criminal Behavior (SAGE Publications) in January 2019. The first edition of this best-selling criminology text was published in 1986 with Nelson-Hall. In 2018, he also published the 10th edition of Research Methods in Criminal Justice and Criminology (Pearson). The Research Methods text was Frank's first book published in 1982 with MacMillan Publishing. In 2000, in Washington, DC, Frank was inducted as a Fellow of the Academy of Criminal Justice Sciences, the highest academic honor presented by the Academy.  He was presented the Mercyhurst Teaching Excellence Award in 2006.
Physics students Madison Parry and Rachel Guest presented at the American Physics Society (APS)Conferences for Undergraduate Women in Physics (CUWiP) held at the College of New Jersey, in Ewing, New Jersey, Jan. 18-21. The presented work, "Biological and Health Effects of Electromagnetic Fields," described the results of a case study developed by the students of the Biomedical Physics course (PHYS320), supervised by course instructor Dr. Simona Carrubba.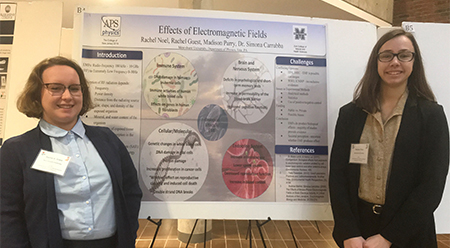 Dr. Simona Carrubba, assistant professor of physics, published a paper on "Optimization of Recurrence Quantification Analysis for Detecting the Presence of Multiple Sclerosis" in the Journal of Medical and Biological Engineering. The manuscript reported the results of a clinical study conducted by Dr. Carrubba at the Louisiana State University Health Sciences Center (LSUHSC, Shreveport, Louisiana) in which she and her collaborators were able to detect the occurrence of alterations in the electroencephalogram (EEG) recorded from patients suffering from multiple sclerosis as compared with control subjects, indicating a decreased complexity of brain electrical activity associated with brain disease.