Alternative spring break trips put Mercy into practice
Wednesday, February 21, 2018
Whether hitting the beach, going home for a family visit or hanging with friends, Spring Break has camaraderie written all over it.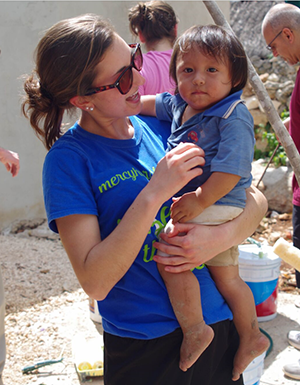 More than 50 members of the Mercyhurst community will celebrate that fellowship in their own special way when they depart for alternative spring break trips in March.
This year's trips include:
18 students going to Monroe, North Carolina, for Habitat for Humanity

17 students going to Detroit, Michigan, for an urban immersion experience

17 students going to Valladolid, Yucatan, Mexico, for a medical mission and cultural immersion experience.
This year's trip to the Yucatan marks the third such venture and includes mostly students studying athletic training and other health-related programs.  They will join Chosen International Medical Assistance volunteers to perform follow-up orthopedic visits with patients recently treated by an Erie area surgery team. In addition, they will have an opportunity to observe surgeries and accompany allied health clinicians providing rehabilitation services to the local people. There will also be time for cultural immersion, volunteering in the rural community, and a day of tourism. 
Their group will be led by Dr. Scott Michel, assistant professor and program director for athletic training, and Colin Hurley, director of community engagement.
"They'll not only have a world-class learning experience alongside a team of dedicated professionals, but they'll also be immersed in an environment that challenges them to put their Mercy education and the core values into practice," Hurley said. "I expect this trip to challenge all of us and question our notion of service and poverty."
Stateside, Bethany Brun, coordinator of service learning, will take 17 students to Detroit, Michigan. While in the Motor City, they'll work with Neighbors Building Brightmoor, a community organization whose mission is to reduce urban blight via urban farming and land reclamation. The group will also explore the city and its history and culture, including a tour of the Ford Rouge Factory, where they will see an assembly-line vehicle built from start to finish.
Graphic designer Jeremy Hewitt, who advises the university's chapter of Habitat for Humanity, will travel with Dr. Greg Baker, director of campus ministry, and 18 students to Monroe, North Carolina. They'll spend several days working on a Habitat home under construction in the city.  The team will build a house during the day and long-lasting friendships over the course of the whole week.
PHOTO: Anna Warner '19 is shown during last year's alternative spring break trip to Mexico, where she will return for the second time this spring. She is majoring in exercise science and sports medicine with a pre-physical therapy concentration.