The 501 - Your golden ticket to the arts at Mercyhurst
Monday, April 30, 2018
The 501, the Mercyhurst Institute for Arts & Culture's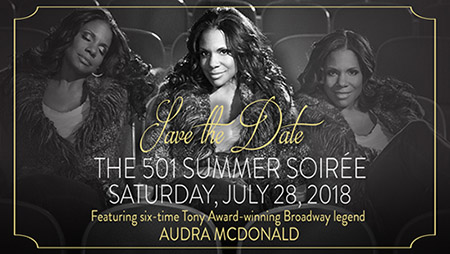 society of loyal supporters, is making an encore.
On the heels of its wildly popular debut season, The 501 will once again provide supporters of the arts unique offers for the star-studded 2018-19 MIAC Live season.
The 501, whose name pays homage to the university's address at 501 E. 38thSt., is a membership society for patrons who wish to enrich their performing arts experience while also supporting the arts at Mercyhurst.
Members of The 501 enjoy a variety of exclusive benefits, including premium seats at performances and entry to private receptions, as well as an invitation to The 501 Summer Soirée on Saturday, July 28, which will include a cocktail reception, a concert by Broadway legend Audra McDonald, and a post-concert reception under the stars.
McDonald, the winner of a record-breaking six Tony Awards, two Grammys and an Emmy, was named among Time magazine's 100 most influential people of 2015 and received a National Medal of Arts—America's highest honor for achievement in the arts—from President Barack Obama that same year. In addition to her Tony-winning performances in Carousel, Master Class, Ragtime, A Raisin in the Sun, The Gershwins' Porgy and Bess and Lady Day at Emerson's Bar & Grill—the role which also served as the vehicle for her 2017 debut on London's West End—she has appeared on Broadway in The Secret Garden, Marie Christine (Tony nomination), Henry IV, 110 in the Shade (Tony nomination) and Shuffle Along, Or, The Making of the Musical Sensation of 1921 and All That Followed.
The Juilliard-trained soprano's opera credits include La voix humaine and Send at Houston Grand Opera, and Rise and Fall of the City of Mahagonny at Los Angeles Opera.
On television, she was seen by millions as the Mother Abbess in NBC's The Sound of Music Live! and played Dr. Naomi Bennett on ABC's Private Practice. She won an Emmy Award for her role as host of PBS's Live from Lincoln Center and has received nominations for Wit, A Raisin in the Sun and Lady Day at Emerson's Bar & Grill.
On film, she has appeared in Seven Servants, The Object of My Affection, Cradle Will Rock, It Runs in the Family, The Best Thief in the World, She Got Problems, Rampart, Ricki and the Flash, Disney's live-action Beauty and the Beast and the movie-musical Hello Again.
An exclusive recording artist for Nonesuch Records, she has released five solo albums for the label. McDonald also maintains a major career as a concert artist, regularly appearing on the great stages of the world and with leading international orchestras.
Each $501 membership is for two people and entitles the bearer to:
Two tickets to The Summer Soirée on Saturday, July 28
First access to tickets for all 2018-19 MIAC Live performances, including An Evening with Shirley MacLaine, Pink Martini, Vienna Boys Choir, Jane Lynch: A Swingin' Little Christmas!, Darlene Love, Golden Dragon Acrobats, Pigpen Theatre Co. and Patti LuPone: Don't Monkey with Broadway
Two premium seats to two performances of your choice during the 2018-19 MIAC Live season
Two passes to three Met Opera or National Theatre Live broadcasts of your choice during the 2018-19 season
Exclusive pre-show receptions before An Evening with Shirley MacLaine and Patti LuPone: Don't Monkey with Broadway
Name recognition in all MIAC Live playbills for the 2018-19 season
Memberships will be available from May 1 until June 10.
To secure your membership for the 2018-19 season, visit mercyhurst.edu/501.
Memberships will be processed in the order in which they arrive.
The 2018-19 MIAC Live series is sponsored by Scott Enterprises.