'La Belle' retells beloved tale of 'Beauty and the Beast'
Monday, January 15, 2018
The timeless story of Beauty and The Beast comes to the Mary D'Angelo Performing Arts Center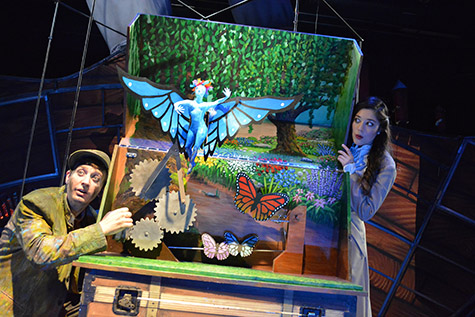 when the Mercyhurst Institute for Arts & Culture presents Imago Theatre's La Belle: Lost in the World of the Automaton, Saturday, Feb. 3, at 2 p.m.
This retelling of the beloved fairy tale trades the castle, forest and provincial town for a wondrous new setting of a steamship inhabited by a living mechanical man.
Co-artistic director Jerry Mouawad describes La Belle as "a love story inside a love story that takes place in a ship." The great fires in the belly of the steamship are stoked by the aptly named Sam Stoker, played by Jim Vadala. A heavy storm drives one of the ship's passengers, Lady Rose, played by Justine Davis, down into the engine room where she discovers that Sam has built an array of ingenious machines to tell the story of La belle et la bête, or Beauty and the Beast. Lady Rose gradually gets swept into helping him tell the story, and "lines begin to blur between Sam Stoker and Lady Rose, and the story of Beauty and the Beast," Mouawad explains.
La Belle is Imago's most ambitious production to date, using song, drama, puppetry, shadow theatre and an endless stream of special effects to tell the story of Beauty and the Beast.
The show's development process took more than three years and involved more than 40 people, including three painters, five to eight fabricators, two actors, two puppeteers, a mechanical engineer, a sound designer and original music by more than five artists. It opened in December 2016, earning raves from critics. Lee Williams of The Oregonian said, "It's all wow factor!" while Marty Hughley of the Oregon Arts Watch called it "a triumph! A beauty of a Beauty … surprising … delightful … rare and wonderful … you may well want to see it over and over again!" 
Founded in 1979 by Mouawad and Carol Triffle, the Portland-based Imago Theatre has been creating transformative art that crosses boundaries traditionally associated with language, age and the physical realm.
Imago's original productions have toured internationally for more than three decades. Having performed in tours across Asia, Europe, Canada and the U.S., Imago has drawn praise from critics worldwide for its range of original work. The company was awarded the New York Dance Film Award and Best "Touring Production" by the Independent Reviewers of New England.
Two of Imago's signature works, FROGZ (2000, 2002) and ZooZoo (2010), have played at New York's esteemed New Victory while another, No Exit, was produced by Harvard's American Repertory Theatre and the Hartford Stage Company.
Tickets for La Belle are $15 for adults, $12.50 for seniors and $10 for students and youth 12 and younger. Tickets can be purchased online at miac.mercyhurst.edu or by calling the box office at 814-824-3000. La Belle is recommended for ages 4 and older.
The 2017-18 MIAC Live season is made possible through the generosity of Dr. & Mrs. Robert Guelcher, Cumulus Media and the Erie County Gaming Revenue Authority. The performance is sponsored by Cohen & Grigsby, Star 104 and the Erie Reader.
MIAC has also partnered with the ExpERIEnce Children's Museum for this performance.