Applause!
Thursday, October 17, 2019
Joe Morris, chair of the political science department and director of the Mercyhurst Center for Applied Politics, gave insightful commentary about Erie politics and Pennsylvania's role in next year's presidential election when the C-SPAN bus visited Erie on Oct. 9. He was interviewed by Pedro Echevarria for C-SPAN's Washington Journal, and fielded questions from listeners. Watch the segment here.
Pink Week at the North East campus was a huge success with more than $600 raised for Pattie's Pink Warriors for the American Cancer Society. The Saints held T-shirt sales, Pink Week Bingo, and Cupcakes for a Cause. The Saints volleyball team made auction baskets for their volleyball game. Parkhurst also donated to the cause with discount lunch and support from their staff. Thanks for all the donations from everyone who came out to show support for the Pink Week campaign at MNE.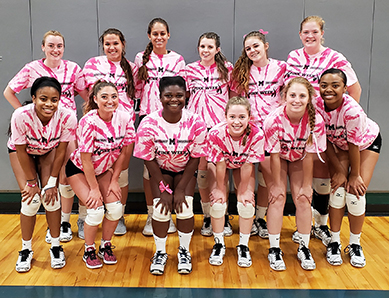 Rajinikanth Mohan, assistant professor of biology, co-authored a chapter titled "Fungal Enzymes for Bioremediation of Xenobiotic Compounds" in Recent Advancement in White Biotechnology Through Fungi. The chapter is a deep discussion of some of the toxic compounds that pollute the environment (such as dyes from the textile industry and toxic industrial waste hydrocarbons) and how enzymes from fungi, especially mushrooms, can be isolated and used to detoxify pollutants. Enzymes are tiny machines made up of proteins and they have the ability to degrade or detoxify pollutant molecules. Traditionally, microbes like bacteria and fungi that contain detoxification enzymes have been used to clear out pollutants from polluted areas. However, this requires that the microbes grow in highly toxic environments. Using enzymes directly to detoxify pollutants makes this process easier. The publication explains how mats of enzymes can be applied to polluted areas to decontaminate them in a cost-effective way. The chapter was written by two undergraduate students at Colgate University under Mohan's supervision. 
Mercyhurst University criminal justice graduate student Jacob Chichester and criminal justice undergraduate student Megan Session, along with criminal justice faculty Dr. Maria Garase and Professor Jeff Shaw, attended an educational session titled "Parole 101" hosted by the Pennsylvania Board of Probation and Parole at the Blasco Memorial Library in Erie. The presentation was designed to explain the functions of the board, to discuss the principles for decision-making, and to educate students about job opportunities within the board and across the Commonwealth. The Board used a fictional character (John) to demonstrate the parole process from parole preparation while in prison through community reentry and (hopefully) successful discharge. Students heard from various board members, the Office of the Victim Advocate, and state parole agents.
Tauna Hunter, retired professor of dance, was honored Sept. 25 with a "Legacy Award" from her alma mater, the University of Utah College of Fine Arts. She was joined by many friends and family. She also taught a master class and lectured to U of U Department of Dance majors and taught master classes at Utah Valley University and at Ballet West.  "I'm so grateful for a lifetime of working in and supporting the arts," says Hunter.