Applause!
Tuesday October 08, 2019
Heather Denning, art therapy instructor, and students Kimberly Bennett, Carlena Bressanelli, and Kaitlyn Kirchmeir presented at the Buckeye Art Therapy Association's Annual Symposium on the topic "Group Work in Undergraduate Art Therapy Education" in Columbus, Ohio, Sept. 21. The students shared their experiences learning about group work through collaborative art-making in the classroom and volunteer work at Saint Vincent Hospital leading art activities with patients who had survived strokes. Kirchmeir, a senior art therapy and psychology student, is pictured below accepting the Don Jones Memorial Scholarship at the annual BATA membership meeting. The students were also able to experience a concert given by Dr. Bruce Moon, author of Art-based Group Therapy: Theory and Practice, the text used in the group art therapy course and referred to in the presentation. Bennett, Bressanelli, and Kirchmeir are pictured below with Dr. Moon. In addition, Denning presented a workshop at the symposium Sept. 20 titled "Therapeutic Art Based Journaling and Bookmaking."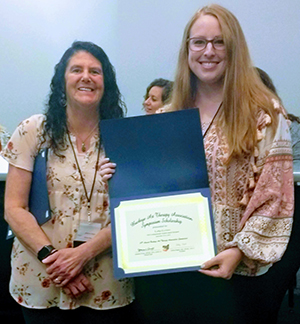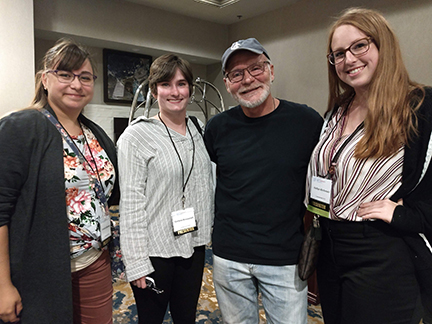 Mitchell Marsh, a senior with a double major in hospitality management and marketing, has received a $25,000 scholarship as a Statler Foundation Scholar of Excellence. Peter Zohos, chair of Mercyhurst's Statler Department of Hospitality Management; Dr. Daryl Georger and chef Meghan Mehler attended the Sept. 19 award presentation in Buffalo, New York. About a dozen college students from around the country are chosen each year to receive this award, the most prestigious award of its kind for students studying hospitality. The Mercyhurst program has had at least one winner annually since 2001. The Statler Foundation, a nonprofit organization dedicated to the advancement of the hotel industry and to future hospitality professionals, has been a long-time supporter of Mercyhurst's program, which carries its name.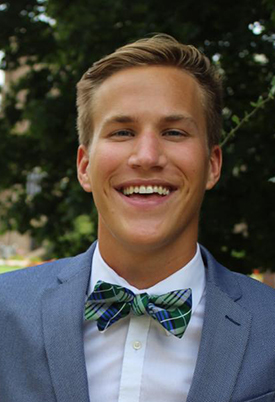 Seven Army ROTC cadets from the Pride of PA Battalion have been honored with scholarships worth more than $800,000 to complete their studies at Mercyhurst University. The ROTC scholarship includes full college tuition and mandatory educational fees. It also provides an allowance for textbooks, all required equipment, and a monthly discretionary stipend of $420 in addition to opportunities for internships with Army units and overseas cultural immersion trips. Matt Schroder, an Intelligence Studies major, received a four-year scholarship. Three-year scholarships went to Criminal Justice major Miguel Rivera and Intelligence Studies majors John Courtney, Ryan Morrissey and Emma Leeser. Intelligence Studies major Andrew Johnson received a two-year award as did Criminal Justice major Dylan Bemiss. Read more.
In September, more than 2,600 votes were cast as people chose their favorite state election map from the spring 2019 competition sponsored by Draw the Lines PA. Mercyhurst senior Logan Ford took home a $1,500 prize as the People's Choice champion, in addition to his $5,000 prize as the higher education state champ. Draw the Lines PA is a nonpartisan resource for Pennsylvanians who want to end gerrymandering. 
Kayla Murphy, director of distance learning, has been chosen to serve as a reviewer for the Blackboard Exemplary Course Program. This program defines and encourages implementation of key characteristics of high-quality online courses and covers all topics from design and assessment to interaction and learner support.  
Benjamin G. Scharff, Ph.D., assistant professor and chair of history, spoke Sept. 10 at the Erie Maritime Museum's commemoration of the Battle of Lake Erie. The event marked the 206th anniversary of the battle, during which an Erie-built American squadron commanded by Oliver Hazard Perry defeated and captured the entire British Lake Erie fleet at Put-In-Bay, on the western end of Lake Erie near present-day Sandusky, Ohio.
Dr. Pete Yaksick, assistant professor of criminology and psychology, was recently recognized in the Johns Hopkins Magazine for co-publishing a cognitive science article as member of a five-person Ivy League research team based at Columbia University. The article, "How does discourse among like-minded individuals affect their thinking about a complex issue?" was published in the peer-reviewed scholarly British journal Thinking and Reasoning (volume 24, number 4, December 2018).
Dr. Tami Micsky, assistant professor/field director, Department of Applied Sociology and Social Work, had an article published online Oct. 4 in the Journal of Teaching in Social Work. Titled "Community of Inquiry (CoI): A Framework for Social Work Distance Educators," the article was written with her social work colleague Leonora Foels from Millersville University. It will also be published as a chapter in a book titled Online and social work distance education: Current practice and future trends, which will be published by Routledge in 2020. Dr. Micsky was also invited to present a workshop Oct. 4 at the 2019 Pennsylvania Juvenile Justice Services Conference presented by Juvenile Detention Centers and Alternative Programs. The theme of the conference was "Integrating Self-Care and Resiliency: Taking Care of Those Who Take Care of Others"; it attracted participants from 30 agencies in Pennsylvania who provide services to dependent and delinquent youth. She conducted a half-day workshop titled "Exploring Loss Experiences: Understanding for Self Care," which explored the psychosocial process of grief associated with a broad spectrum of tangible and symbolic loss experiences. Participants shared personal and professional struggles with grief, loss, and self-care, culminating in the creation of a self-care plan.