Applause!
Wednesday, September 04, 2019
Christy Rieger, professor of English, published "Chemical Romance: Genre and Materia Medica in Late-Victorian Drug Fiction" in the latest issue of Victorian Literature and Culture (Cambridge UP). Research was conducted with the aid of a travel grant from the F. C. Wood Institute of the History of Medicine at the College of Physicians of Philadelphia.
Baseball Associate Head Coach Charlie Spano, who completed his 18th season with the Lakers, was honored by the American Baseball Coaches Association and Baseball America as the Division II Assistant Coach of the Year. Spano and the honorees from 10 other divisions will be honored at the ABCA Convention in Nashville, Tennessee, on Jan. 3, 2020. Read more.
During the summer 2019 break, Rich McCarty, Ph.D., associate professor of Religious Studies, was invited to offer a number of public lectures and to engage in scholarship review. In May, he was invited as the featured speaker in the Capital City Pride Speaker Series in Des Moines, Iowa. His talk, "At the Intersection of Sexuality, Ethics, and Religion," took place May 23 at the Des Moines Art Museum. Following that lecture, Rich was invited to record three episodes on the podcast And So We Meet Again in Iowa City, Iowa. Two episodes focused on his scholarship and public analysis of religion, ethics, and sexuality. The third episode turned toward theological reflection on concepts of free-will and predestination in Jewish and Christian scriptures. In June, Yale University Press invited Rich to review the forthcoming book, Nudity: A Brief Peek, by Dr. John Portmann. Following the completion of that project, Rich was invited to address the Benedictine Sisters on Aug. 7, participating with a panel of five professionals who each spoke on issues of sexuality and gender. He is pictured below with Sr. Jeannine Gramick of New Ways Ministries and Sr. Joan Chittister, with whom Rich shared conversations afterward. Finally, in August, Rich was invited to give a talk at Chautauqua Institution, held at the Unitarian Universalist House and sponsored by the Chautauqua chapter of PFLAG. Rich's presentation, "From Biography to Ethics: Critical Realism for a New Sexual Ethic," explored reasons why we can move away from moral relativism without becoming authoritarian in our moral reasoning.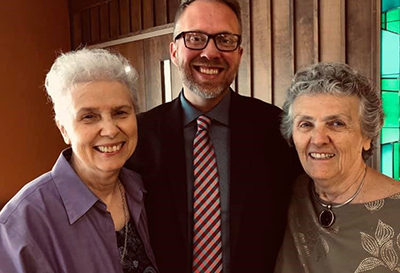 Dr. James Snyder, associate professor and chair of Philosophy, spent a week at Harvard University's Center for Hellenic Studies in Washington, D.C., Aug. 1-6 as a participant in the Council of Independent Colleges' 2019 summer seminar on "The Ancient Greek Hero." The seminar explored the question of what it means to be human through the model of Greek heroes presented in Greek epic, tragedy, and philosophy, while working to develop new models of communication and collaboration for classroom teaching. The seminar was led by Gregory Nagy, Francis Jones Professor of Classical Greek Literature and Professor of Comparative Literature at Harvard University, and was made possible by the Andrew W. Mellon Foundation, the Council of Independent Colleges, and Mercyhurst University.
Professor of English Dr. Jeffrey Roessner delivered a paper at the Popular Music and the Self conference held May 30-31 in Vienna, Austria. His essay, titled "The Three Ages of Fan: Identity, Irony, and Post-Postmodernism in Roddy Doyle's Popular Music Narratives," traced the evolution of Irish novelist Roddy Doyle's style, from an early engagement with postmodern irony and appropriation through a more recent reckoning with aging and a renewed sense of sincerity. The international conference was sponsored by the University of Vienna and sessions were held in the historic Hofburg, the former imperial palace of the Habsburg empire.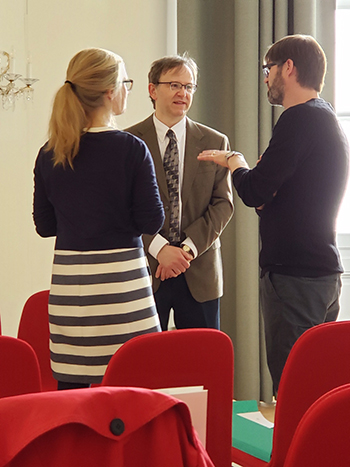 Senior Art Therapy student Kaitlyn Kirchmeir was the recipient of the Don Jones Memorial Scholarship awarded by the Buckeye Art Therapy Association. This scholarship is awarded each year to one undergraduate art therapy student based upon a student written essay and recommendation by an art therapy educator. Kaitlyn will co-present at the annual Buckeye Art Therapy Association Symposium this September in Columbus with other Mercyhurst art therapy students and faculty member Heather Denning on the topic of "Group Work in Undergraduate Art Therapy Education." This is the second year in a row that a Mercyhurst art therapy student has been awarded this scholarship. Denning, instructor of art therapy, presented a practice paper on the same topic this summer at the International Art Therapy Practice/Research Conference hosted by the British Art Therapy Association and American Art Therapy Association in London, England.
Four student teams from Mercyhurst University are among the 10 finalists in the 2019 Student Merchandising Competition sponsored by the Educators for Socially Responsible Apparel Practices (ESRAP). This annual juried poster competition challenges undergraduate and graduate students to incorporate Triple Bottom Line (TBL) practices in the development of a business plan for a socially responsible fashion retailer. The TBL posits that instead of one bottom line, there should be three: profit, people, and the planet. Read more. 
Another student in Mercyhurst's Physician Assistant Studies graduate program has received a Health Professional Scholarship through the U.S. Department of Veterans Affairs. Taylor Price of Portage, Pennsylvania, is the 7th Mercyhurst student to earn one of these highly competitive awards. Read about the awards announced previously.
John Benko's project during his senior year was to scan and add a table of contents to the Mercyhurst Scrapbook collection. John was able to complete the scrapbooks from 1926-1976, which are now available online. In completing this project John learned about archival processing and preservation, skills he will now use in a Smithsonian internship as he pursues a career in archives.
Dr. Tami Micsky, assistant professor/field director in the Department of Applied Sociology and Social Work, attended The Teaching Professor conference June 8 in New Orleans, Louisiana, and presented a workshop titled "Building Community in the Online Classroom," which had more than 100 attendees. The presentation shared the value of the Community of Inquiry Framework and the Practical Inquiry Model as tools for creating a sense of connection, shared metacognition, and common experience in the online classroom.